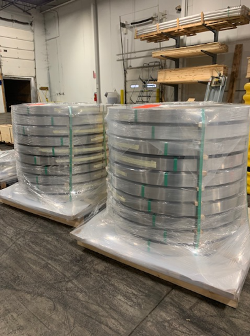 Aluminum is a very common material that features excellent versatility. As such, it is frequently used in a number of different manufacturing processes. The metal is an absolute staple when it comes to its applications. However, it can be a bit of a challenge to work with aluminum. It requires a skilled professional to keep the workability problem-free, and the process of aluminum slitting is no different.
Certain grades of aluminum slit like butter, while others can be very difficult to slit. The service provider you choose should be a professional operation that can handle your specific requirements. Also, since aluminum is different from steel, the slitting process requires different kinds of tools. Slitters that can strike wide aluminum coils into narrow ribbons with precision are key.
NKS's Aluminum Slitting Capabilities in Dallas
At NKS, we can skillfully process best-in-class slitting with the lowest possible burr or impairment. We offer guaranteed slitting services, from our factory right to your location. Our aluminum slit coils can be cast-off in diverse applications, including automotive parts, electrical appliances, eyelets, fin tubes, washers, deep drawn parts, and more.
We make sure that the critical nature of the surface is also well taken care of while processing the slitting requirements. Our non-ferrous slitting lines consolidate state-of-the-art operating systems that are easy to use and efficient to work with. We're capable of handling larger diameter coils to produce tightly cut straight-sided slit coils. Our industrial-grade equipment eliminates downtime and maximizes productivity. We also provide shape correction, scrap removal, loop control, automated coil prep and handling, reduced arbor bending, and many other vital features to deliver a quality product.  
We are just a call away if you would like to learn about our full-service metal slitting facility. You can also click here for more information about the aluminum slitting process.
The NKS Difference
NKS prides itself on its team of diverse individuals who are all dedicated to achieving excellence in what they do. Our team is aligned with the core values to provide world-class execution of our customers' needs. We strive to perform with the highest integrity, timely communication, accountability, and mutual respect. We're committed to partnering with you on the same values. This is what makes NKS different from its competitors.
As an essential business, our facilities remain fully functional despite the crises that the world is facing right now. NKS falls within the exemptions, and our team is working hard, day and night, to accommodate all of your aluminum slitting needs.
Have Additional Questions? Ask the Experts at NKS!
At NKS, we offer a custom slitting method that doesn't compromise the integrity of the aluminum. You can order personalized slitting specifications, and our team will efficiently accommodate your request. Not just that, but once the material is slit, we carefully recoil and package it for safe transportation. With consistent and precision slitting, our operators produce less scrap and surface damage, making the coils easier to handle and more workable. For all your aluminum slitting service needs, you can count on NKS — we know how to get the job done with 100% customer satisfaction.
To learn more about our aluminum capabilities in Dallas, you can call National Kwikmetal Service at 1800-722-5029 (toll-free), or request a free quote through our website. We are the fastest and most-trusted stainless steel and aluminum metal service center in North America. We offer superior products at competitive prices. It is our mission to meet and exceed our customer's requirements.
Get in touch with us today to see how NKS can help you make a difference! We'll be happy to answer any questions or concerns you may have.