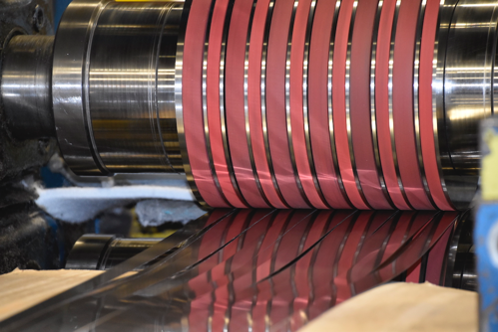 Are you looking for customized metal slitting solutions in New York? Need a reliable stainless steel or aluminum distributor to become an extension to your business? Or you are just someone who needs to produce aluminum products? If you answered "yes" to any of these questions, then you've come to the right place.
At National Kwikmetal Service, we are the premier metal service center in the United States. We provide a variety of services, including stainless steel and aluminum slitting. We offer different grades, tempers, gauges, and finishes. Rest assured, the quality of aluminum and stainless steel coil and sheet that you receive will absolutely be world-class.
The Aluminum Slitting Process
Aluminum slitting is a process in which aluminum coils are fed through a slitting machine and cut into narrow widths. However, it's a much more advanced process than what you just see on the outside.
If you desire a particular thickness or width of the coil, tolerance, and gauge, our machines can work to meet the specified details. We provide our services for both smaller and larger quantities, along with different ODs, IDs, and gauge ranges, etc.
When the larger master coils are sent through a set of circular wheels, these operate on predetermined specifications fixed by the operator. This ensures that the customer's needs are accurately met.
So, we anneal the metal to produce the temper that you would require for your kind of application. Then we slit the material according to the width you need to feed your operations. Once done, our team conducts a quality check. Then, the strands are recoiled, and we finally deliver it to you with the highest quality packaging via a robust logistics network.
Slitting Equipment Capabilities
Slitter                                                     24" K & S
Max. Coil weight Un-coiler                10,000 lbs.
Max. Coil width entry                          24.000"
Max. Coil OD Un-Coiler                       60.000"
Coil ID Range Entry                             16-20"
PVC Applicator                                     Present
Gauge thickness                                  0.032" to 0.004"
NKS is an ISO 9001:2015 certified firm specializing in custom designed choppers to house all your high precision and high-speed slitting needs. We also make use of superior equipment and exceptional techniques to ensure dimensional accuracy.
Search by Grade
NKS has several grades of aluminum coils in stock, including alloy 1100, 3003, 3105, 1050, and 1070. You can order Nameplate Quality Raw Aluminum in either of the two finishes: mill finish or one-side bright. You can get sheets or coils in a clean or degreased form.
Another option that you have is coated/painted aluminum, which can be custom painted, has the same two finishes, and is ideal for UV and digital ink printing.
The last option with mill, bright, and etched finish are the anodized sheets and coils for 1000, 3000, and 5000 series alloys. These retain moderate to excellent levels corrosion resistance, along with superior workability and welding ability.
If you cannot find what you are looking for, we are just a call away!
COVID-19 Update
To prevent the spread of COVID-19, in many places executive orders require residents to stay at home. Some businesses (except those deemed essential) have been ordered to stay closed. NKS falls within the exemption, which means all of our facilities are fully operational, even during this crisis.
We are fully equipped to work with all your aluminum slitting requirements. Our operations are spread over three major locations in the country to serve you quickly.
Contact Us
Our expertise and hard-earned reputation make us a leading supplier of aluminum slit coils in New York. Whenever you are ready, call us at 800-722-5029 (toll-free) to request a quote or place an order on our aluminum slitting and cut-to-length services. Our team will be happy to learn more about your project and assist you further.