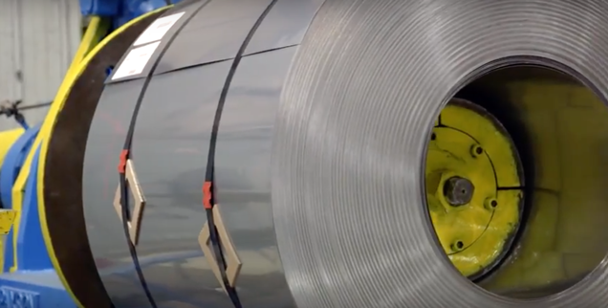 Both aluminum and stainless steel have their individual strengths and weaknesses, along with their typical applications. But what if you could combine the two to get the best of both the worlds? You can certainly do that, and aluminized stainless steel is the solution!
Type 439 aluminized stainless steel is another specialty that we offer at National Kwikmetal Service. Aluminized stainless steel exhibits the characteristics and performance that are similar to aluminized carbon steel. Its most prominent features include high resistance to corrosion, heat, and pitting. This makes the material perfect for even the most challenging applications.
National Kwikmetal Service provides a full range of type 409, 430, and 439 aluminized stainless steel that uphold ASTM A240 quality. These materials are well-suited for the production of a variety of products that demand excellent heat and corrosion resistance. Type 439 is particularly well-suited for automotive, household appliances, HVAC equipment, food and chemical processing, architectural structures, exhaust systems, and other types of hot, wet, and harsh environments.
What Is Aluminized Stainless Steel?
Aluminumized stainless steel is the type of steel that has been coated with an aluminum-silicon alloy on both of its sides. Usually, the coating is made up of 90+% aluminum. However, this number depends mostly on the percentage of silicon that will be added in addition to aluminum, or whether it will be a pure aluminum coating.
The process of aluminum coating significantly helps extend the life of the metal over bare stainless steel, and it determines how suitable it is for different uses. This layer also produces a tight metallurgical bond between the aluminum coating and steel sheet. This gives it the strength and durability of steel, along with the surface properties of aluminum. So, in turn, what you end up with is a unique combination of material that possesses the features you cannot attain with aluminum or stainless steel alone.
Type 439 aluminized stainless steel is a steady ferritic material with 17.0 min and 19.0 max chromium content that results in less oxidization. It is also stabilized with titanium to offer improved weldability. In addition, the material counterattacks stress corrosion cracking while providing higher thermal conductivity, as well as reduced expansion. The material is less likely to distort under several circumstances. Also, aluminized stainless steel is often more economical than metals like stainless steel.
What Else?
Sources for the supply of aluminized stainless steel are, however, limited. But fortunately, NKS has the resources and capability to supply this unique material to our customers. We have a team of specialized professionals that are able to meet your unique needs.
From the time you place your request, to the point when the final product gets delivered, and everything in between — we take care of your needs. Our clients depend on us to have their aluminized stainless steel orders delivered for their wide range of manufacturing applications. Our staff works day-in and day-out to meet your demands in a timely manner.
Need A Reliable Aluminized Stainless Steel Slitting Provider in Cincinnati? Contact NKS!
Due to its features, aluminized stainless steel can be a great choice for the most rigid applications.
For more information on how 439 aluminized stainless steel can work for you, get in touch with our industry experts who can guide you better on its usability. If you are looking for a reliable and consistent supplier, you can also inquire about our inventory.
If you plan on using NKS as your go-to stainless steel and aluminum slitting supplier in Cincinnati, we guarantee quality products, affordable pricing, and 100% customer satisfaction. Call us at 1800-722-5029, or fill out this form to get in touch with our staff!