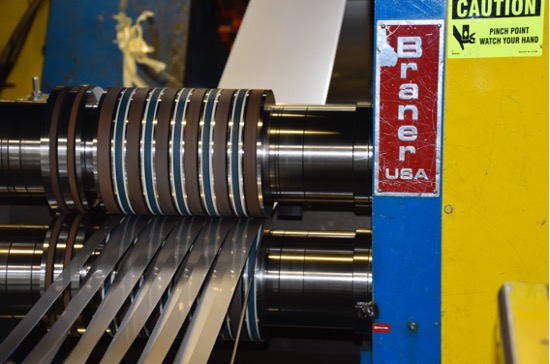 The 300 series stainless steel slit coils, strips, and rolls are employed for various industrial applications. Each product serves its unique purpose since not all stainless steel grades perform the same way and are ideal for different uses. Predominantly, stainless steel is useful in the automotive, aerospace, food, pharmaceutical, and construction sectors. The most common grades are type 301 and type 304 stainless steel slit coils and strips. At NKS, we process both varieties and slit these as per specified or standard dimensions. In this article, let's take a quick look at how the two grades differ and which one may be more apt for your specific projects.
COMPARING STAINLESS STEEL TYPE 301 AND 304
Both types are stainless steel alloys and somewhat similar in content. But there are some fundamental differences. Type 301 stainless steel is a low-cost alternative to type 304, and its formula includes lesser percentages of chromium and nickel. The content tradeoff has some impact on the performance of type 301 products in comparison to type 304. However, as a standalone selection, type 301 is quite resistant, durable, and performs reasonably well in whatever applications it's suitable for.
301 STAINLESS STEEL IN SALT LAKE CITY
Type 301 stainless steel has the lowest nickel-chromium blend among 304, 316, 321, and many other types. For this reason, it is also one of the most cost-effective selections. It is much stronger than type 304 and also has better wear resistance. It is an austenitic, non-magnetic grade with superior corrosion resistance. It's ideal for making utensils, automotive rims, industrial products, aircraft parts, roofing commodities, and more. The grade has fantastic drawing and forming properties that make it less expensive to fabricate.
304 STAINLESS STEEL IN SALT LAKE CITY
It is a non-magnetic, versatile alloy that's also one of the most widely used stainless steel grades. It shows better resistance to corrosive substances. The grade also efficiently reduces carbide precipitation and can be involved in high-temperature applications. It does not experience intergranular corrosion or sensitization. Mining, dairy, food service, chemical, healthcare, and laboratory equipment is usually processed with 304 stainless steel. Type 304 stainless steel is also ideal for appliances, cookware, sinks, and tabletops.
COST
Since both type 301 and type 304 use iron as their primary ingredient, the chemical composition makes the most difference in their costs. Many of the compounds are capped at the same values. However, type 304 contains more nickel and chromium content, making it more expensive than type 301 stainless steel. But how much more expensive is it? That will depend on the time of your purchase. Talking of slitting costs, those mostly depend on the slitting company's quotes.
WHICH IS BETTER?
So, which alloy is better than the other? Well, in our opinion, the answer to this question may be based on your specific applications and projects. Type 301 is suitable for less demanding purposes, whereas type 304 performs well in installation with more demanding specifications.
Type 301 is also suitable for applications where it won't be exposed to saltwater, higher temperatures, or extremely corrosive conditions. It is the best choice where higher tensile strength is the primary focus. Type 304, on the other hand, is ideal for load-bearing applications where higher temperatures and corrosive conditions may be standard.
TYPE 301 AND 304 STAINLESS STEEL SLITTING IN SALT LAKE CITY
As per industry standards, these stainless steel products are available as coils, strips, and rolls. These are slit to your custom specifications as well as a variety of finishes. At NKS, we do just that. Our heavy-duty stainless steel slitters can handle a wide range of thicknesses and widths. Type 301, containing a higher concentration of carbon and tensile strength, makes the slit coils suitable for hardware and automotive products. Type 304 stainless steel is slit to high-strength and durable coils, making them ideal for medical, food, and beverage components. Most of our Salt Lake City clients request our 301 stainless steel slitting services, and you can too.  
At NKS, our slitting lines can accommodate all types of stainless steel and aluminum stocks. To inquire concerning your unique project needs, contact us at 1800-722-5029 (toll-free), and our specialist will get back to you shortly.