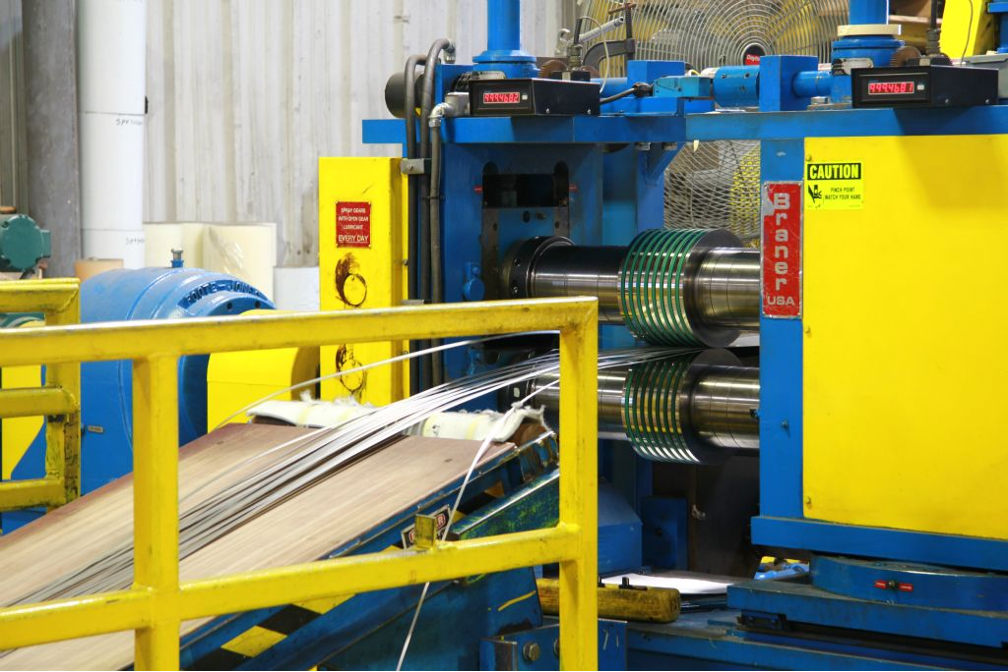 Grade 304 and 304L stainless steel are some of the most commonly used alloys around the world. They are also amongst the most frequently used grades at the National Kwikmetal Service (NKS) slitting facilities. Of the entire 300-series of stainless steel, type 304 is not only the most versatile — it's also the most corrosion-resistant. This stainless steel slitting company in the Oklahoma City, Oklahoma area is going to explain everything you'll need to know about the material below.
Manufacturing Challenges
Metallic corrosion is a common manufacturing challenge. It results from electro-chemical interaction within the metal's operating environment. Corrosion degrades the metal and leaves it both mechanically and structurally unfit over time. It is an problem that affects a product's integrity in the form of a shorter life cycle and increased maintenance. 
Corrosion of products is something that heavily impacts the economics of many businesses. Implementing corrosion control practices can help reduce long-term costs considerably. Engineers are showing a greater eagerness and interest in designing products with materials that minimize the negative impacts of corrosion.
Today, design sustainability, product optimization, minimal maintenance requirements, and end-of-life recycling are essential parts of the product's characteristics, cost, and performance.
There is now more burden on manufacturers and product engineers to consider proper life cycle management of their products. This is particularly true for industries where performance and reliability are key factors.
Grade 304 Stainless Steel: A Cost-Effective Solution
Type 304 and 304L stainless steel have long been used in corrosive environments, including marine, healthcare, chemical processing, laboratories, and restaurant applications. This austenitic grade is predominantly appropriated in coils, sheets, and strips to produce an ever-increasing range of cost-effective, strong, and corrosion-resistant products.
Engineers often express concerns regarding embrittlement, diminished mechanical strength, ductility, and fatigue properties. However, grade 304 and 304L stainless steel is a cost-effective solution in the sense that it provides better corrosion resistance, greater strength, lesser maintenance, and longer lifespan. These product characteristics open a myriad of possibilities for manufacturers to expand their product lines.
Both 304 and 304L can withstand corrosion from most oxidizing acids, solutions, and a variety of organic/inorganic chemicals. Their corrosion-proofing qualities are linked to their chromium content — the more the chromium, the better the corrosion resistance. Type 304 contains 18% chromium, giving it excellent resistance properties and a beautiful luster. Considerable amounts of nickel also add to its overall durability in harsh environments.
Looking for Grade 304 or 304L Stainless Steel? Trust the Premier Stainless Steel Slitting Company in Oklahoma City, Oklahoma Area
No two manufacturing projects are created equal. They are dependent on a variety of factors, which are used to determine the kind of material that's suitable for a particular application. You might prefer something that is more lightweight, aesthetically pleasing, or durable. However, in most cases, the material's resistance capabilities are what's most important.
Grade 304 and 304L stainless steel surpasses most tests and performs well in harsh oxidizing environments, making it an optimum choice for many purposes. However, if you aren't sure whether this grade of stainless steel is the best option for you, we are here to help. As the premier 304 and 304L stainless steel slitting company in the Oklahoma City, Oklahoma area, our metallurgists would be happy to discuss your project and help you find the right material.
At National Kwikmetal Service, we have the knowledge and expertise to offer error-free, affordable, and safe 304 and 304L stainless steel slit products in the Oklahoma City, Oklahoma area. You can contact us today at 1800-722-5029, or you can submit a form through our website to request a quote.