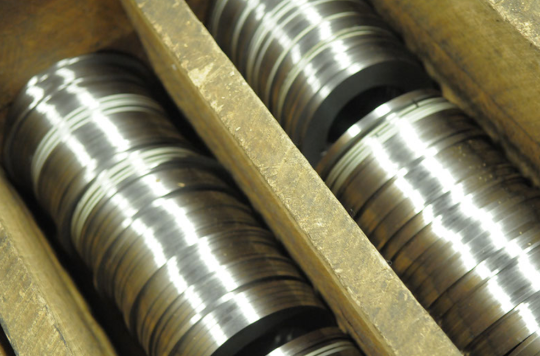 Type 430 stainless steel is, by far, one of the most popular straight-chromium stainless steels. It is considered ferritic stainless steel containing high chromium, low carbon, and very little nickel content. It has anti-corrosive properties approaching that of 304/ 304L stainless steel coils. The grade is useful for a variety of internal and external applications. At NKS, we engage qualified operators and best-in-class slitters to splice lightweight, malleable, and compact stainless steel coils. This article will tell you more about type 430 coil and how it is useful for different applications. Sit back and read on — here is everything you need to know about Louisville type 430 stainless slit coils.
CHARACTERISTICS
Type 430 stainless steel coils are significantly less expensive and a great value of choice for non-critical environments. It is a general-purpose alloy that makes the right choice for cosmetic applications. It is non-hardenable steel, offering mild resistance to oxidation under high temperatures. The grade does not work harden so quickly and has excellent drawing as well as forming capabilities. It is most advantageous in applications where corrosion resistance is more demanded than strength under standard atmospheric conditions. It may also hold up firmly against dilute organic acids and alkalis.
The coils are fabricated by bending, drawing, pressing, and heading. Compared to most other grades, this one has poor weldability due to a lack of stabilizing elements. More stabilized varieties to mention in the 400 series are types 434, 439, and 441. If you would like to know more about the grade's chemical and mechanical composition in detail, click here.
PROCESSING
Fabricators and metal processors draw, form, bend, cut, and stamp the alloy to produce several parts. The grade can easily be hot worked between 1500°F and 1900°F temperature range. After reaching a stable temperature, the coils can be fabricated. However, it is susceptible to grain growth at higher temperatures for a prolonged period, reducing its elasticity. Slow cooling at around 1000°F can lead to embrittlement. Also, it does not work harden with cold work as rapidly as other grades.
APPLICATIONS
Louisville Type 430 stainless steel slitting allows the coils or strips to do well in indoor environments. It offers a pleasing finish at a much lower cost and is also convenient to maintain. The coils may be suitable for making most food-grade appliances such as catering equipment, kitchen utensils, microwave oven liners, and cutlery.
These are slit as per international standards with minimum bur and camber and maximum flatness. A wide variety of other applications may include dairy equipment, sanitary fittings, furnace parts, automotive accessories, display cases, builder's hardware, beer barrels, chemical equipment, tobacco machinery, and more. Once every coil fabricates, our certified and knowledgeable staff examines those coils for quality purposes following multiple parameters.
CHOOSE NKS FOR ALL YOUR LOUISVILLE 430 STAINLESS STEEL SLITTING NEEDS
At National Kwikmetal Service, we specialize in Louisville 430 stainless steel slitting that is always superior and camber-free. Each of our slitting lines has exceptional capabilities providing customers the slitting opportunities that most others in the industry cannot offer.
We slit at made-to-order ranges and administer safe and personalized packaging. We stock our own comprehensive inventory and slit your materials too. Our machine operators are veterans having years of experience who understand how to slit precisely and error-free.  As a family owned and operated company with locations throughout North America, we are 100% committed to our client's satisfaction. Ask us your questions at 1800-722-5029 or request a quote. Let us discuss how NKS professionals can help you make a difference with your projects.