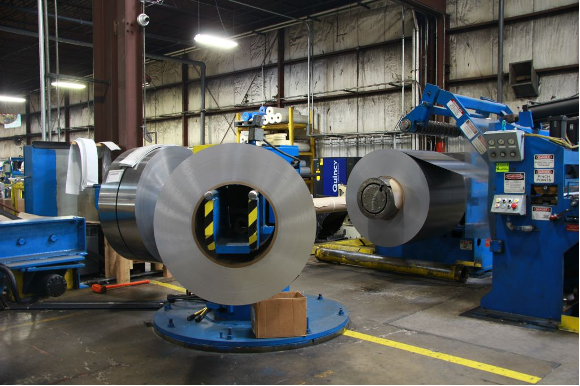 Stainless steel is a strong, popular, and resistant metal that is suitable for multiple applications. Types 304 and 409 are two of the most highly requested types of stainless steel at our slitting facilities. But how do the two differ? This stainless steel slitting company in Kansas City, Missouri is going to discuss the two grades below. But before we get into that, here is a quick look at the common types of stainless steel available in the market:
Ferritic Stainless Steel
Ferritic stainless steel is magnetic, less formable, and highly resistant to stress corrosion cracking. It comprises ferrite in considerable quantities along with chromium and carbon (in smaller amounts). This type is most valuable in applications that don't require welding. Adding molybdenum helps it perform better in marine environments and other aggressive conditions.
Austenitic Stainless Steel
Austenitic stainless steel is nominally non-magnetic and can be strengthened for corrosive environments by adding chromium, nitrogen, and molybdenum. It is the most commonly utilized type and includes nickel, nitrogen, as well as manganese. One with higher nickel content performs better against stress corrosion cracking.
Martensitic Stainless Steel
Martensitic types are also based on chromium like Ferritic stainless steel but with higher carbon contents. These are suitable in applications where strength and moderate corrosion resistance may be required. The grades are magnetic, have low weldability, and are primarily used in sheet and plate form.
Type 304 vs. Type 409 Stainless Steel
When comparing stainless steel grades for slitting applications in Kansas City, Missouri, you must keep a few things in mind. Knowing how the two metals differ allows you to make the right choice.
304 Grade Is 'Austenitic' Stainless Steel
Type 304 is one of the oldest stainless steel variants available today. It is an austenitic grade and suitable for making household appliances. It is also used for automotive purposes.
The grade is tough, durable, and corrosion-resistant, having 20% chromium and 10% nickel levels. Its ferrous level is so low that no magnets fasten to the metal. This is one of its primary identification traits. Read more about Type 304 stainless steel here.
409 Grade Is 'Ferritic' Stainless Steel
The main difference between 304 and 409 stainless steel is the change of class. Type 409 is ferritic stainless steel with more ferrous content than 304 grade. It allows the product not to lose its color even in higher temperatures. Plus, high iron content makes it more magnetic.
This type is defined by 11% chromium levels and is the cheapest ferritic stainless steel option. Type 409 stainless steel is appreciated for its corrosion-resistance properties. In addition, you also get moderate oxidation protection with Type 409.
Grade 409 is the second most popular choice amongst auto enthusiasts and professional manufacturers. It is malleable, can be formed into numerous shapes, and is appropriate for automotive parts, furnace liners, heat exchangers, and exhaust systems. Read more about Type 409 stainless steel here.
Which Grade is the Best?
Choosing the best ultimately depends on individual preferences, including the budget, applications, availability, unique qualities, etc. Both grades perform exceptionally in their environments. If temperature resistance is the primary requirement and rust resistance is secondary, Type 409 stainless steel is your go-to option. But if rust prevention is crucial and the cost isn't a concern, choose Type 304 stainless steel.
Looking for a 304 or 409 Stainless Steel Slitting Company in Kansas City, Missouri?
At NKS, we understand how valuable each stainless steel grade is. We have the capabilities to deliver perfectly finished coils, sheets, and rolls, and we can ship them to your location with the highest standards. If you are looking for a type 304 or 409 stainless steel slitting company in Kansas City, Missouri, NKS is the company you can trust. Contact us today at 1800-722-5029 to get started.