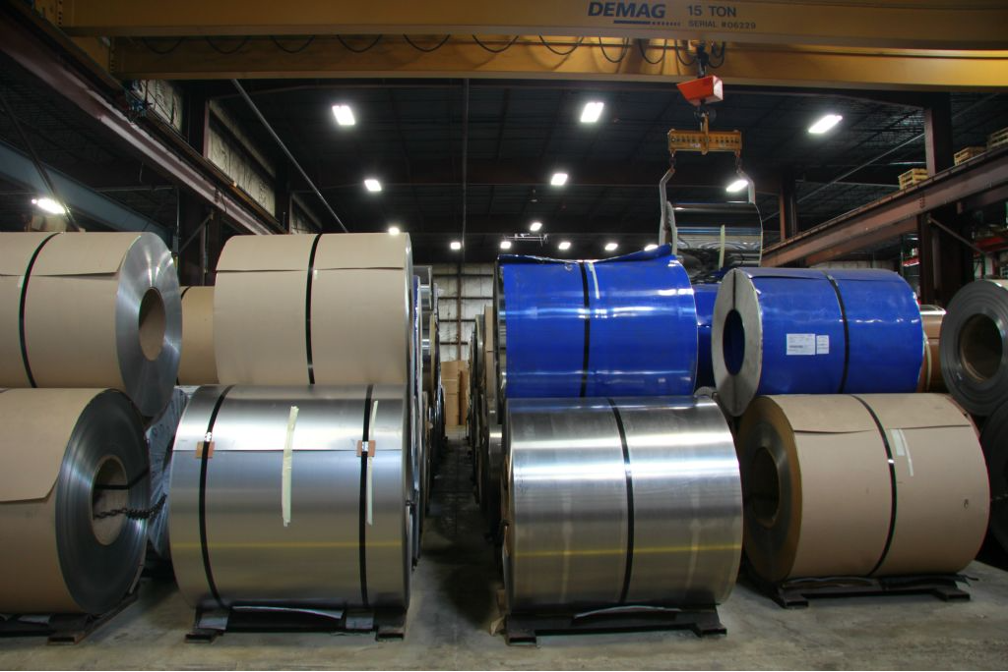 Stainless steel is a popular choice today for numerous applications in the manufacturing realm. In the coil form, stainless steel is tough, corrosion-resistant, requires little maintenance, and can easily meet diverse design criteria. You can find numerous grades of stainless steel coils, such as grade 301 or 304, with each type having distinct properties and usability.
Below, this stainless steel slitting company in Tucson, Arizona is going to discuss everything you'll need to know about stainless steel coils, as well as some of the common applications of stainless steel coils today.
What Are Stainless Steel Coils?
Stainless steel coils are among the most sought-after raw materials used by construction and manufacturing industries. The coils are manufactured by hot rolling stainless steel slabs in a reheat furnace at a specific temperature, called the recrystallization temperature. In addition, the grade you choose determines the suitable temperature to be used. These stainless steel slabs are continuously run through heating and rolling mills resulting in coils rolled to perfection.
After this process, the coils are passed through annealing and pickling lines to achieve a softer and brighter finish. The final product is free from oxides and any impurities. These coils can weigh anywhere between seven to 15 tons, or they can go up to around 30 tons depending on the thickness and length of the plating. You can learn more by contacting your local stainless steel slitting company in Tucson, Arizona.
What Are the Applications of Stainless Steel Coils?
Stainless steel coils find their place in a vast array of applications. These include electrical enclosures, indoor decorations, heat exchangers, food processing equipment, cooking utensils, cutlery, chemical industry, storage tanks, and much more. These coils are also suitable for making springs, filtration devices, marine equipment, energy products (nuclear power, thermal power, fuel cell), surgical instruments, and more.
As any stainless steel slitting company in Tucson, Arizona will tell you, stainless steel coils are widely used across different fields because stainless steel is easy to fabricate, clean, and maintain. The metal is bacteria-proof, also known for its aesthetic appeal and durability. When looking for a coil for your specific needs, you'll want to pay attention to the aesthetic standards, atmospheric corrosiveness, and the necessary cleaning process.
Stainless steel coils do not rust, stain, or corrode as easily as other steel varieties. The metal can also be steam cleaned and sterilized without compromising on usability. Stainless steel coils are usable in the following industries:
Aerospace
Automotive
Construction
Chemical processing
Defense
Electronics
Electrical energy
Food equipment
Medical
Mining
Oil and gas
Transportation
With the improvements in the quality of stainless steel rolling products, future applications are set to increase year after year. If your manufacturing processes require stainless steel products, get your coils from a local, reputable stainless steel slitting company in Tucson, Arizona, for a quality purchase.
Looking for the Best Stainless Steel Slitting Company in Tucson, Arizona?
Are you ready to order stainless steel coils for your manufacturing needs? If so, and if you're looking for the best stainless steel slitting company in Tucson, Arizona, look no further than the experts at National Kwikmetal Services. In business since 1989, we have the skills, experience, and equipment necessary to meet orders of all sizes.
We have a wide range of stainless steel coils to choose from, allowing you to find the exact grade and finish required to meet your manufacturing needs. Regardless of the scope of your project, we can assist you in choosing the best product for your job. Contact us today at 1-800-722-5029 to get started.