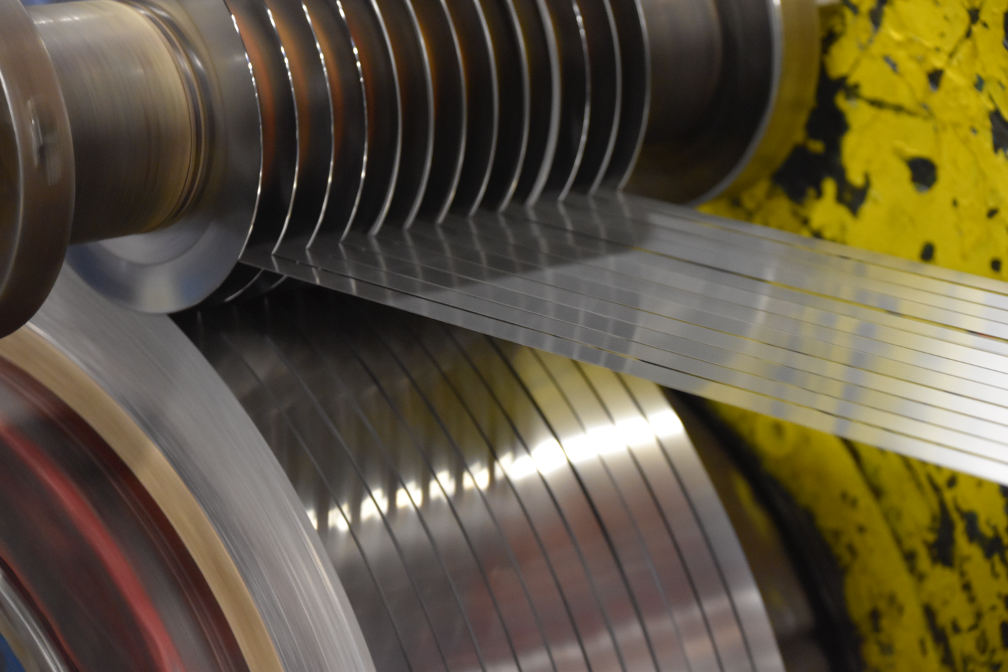 Stainless steel is a commonly used engineering and building material that provides several advantages and can be used for a wide range of applications. In the modern world, you can find it virtually everywhere. But have you ever wondered what makes stainless steel "stainless" in the first place?
As the premier stainless steel slitting company in Irvine, California, we are going to answer that question below, and we'll also briefly discuss the different grades of stainless steel that are available.
But First: What Is Steel?
Essentially, steel is an alloy that combines several elements, with the foundation being iron. Iron is inexpensive, abundantly available in the earth's crust, and rarely used for industrial purposes in its pure form. Adding around 2% carbon to iron makes "mild" steel, a long-known recipe for tough, durable, and easily workable steel.
However, mild steel has its limitations, primarily rusting, as oxygen joins with iron and eventually wears away the alloy. Rusting is a degenerative process that lowers a product's quality, increases friction, and reduces magnetic properties. When iron is exposed to air, water, salt, or other chemicals, the oxidation process accelerates, leading to expensive losses.
What Is Stainless Steel, and Why Doesn't It Rust?
To prevent rusting, it is necessary to stop oxygen from binding with iron. So, after repeated experimentation, it was discovered that the best way to do this is to let some other element, i.e., chromium, bond with iron and make an alloy that doesn't rust.
This produced stainless steel, a commonly used metal today, with several advantages over iron and steel. Stainless steel isn't a single entity but an alloy consisting of at least 11% chromium. It can be more expensive than steel but averts corrosive effects under various circumstances. Different types of stainless steel like Grade 301, 304, 316, 409, or 430, have other elements added to the composition. These include carbon, copper, manganese, molybdenum, nickel, nitrogen, silicon, or sulfur.
Stainless Steel in Manufacturing Processes
Based on its anti-rust and anti-stain properties, stainless steel is used in various manufacturing applications. Composition wise, stainless steel is categorized as:
Austenitic Stainless Steel – Most common type, high in nickel, weldable, and malleable such as Grade 304
Ferritic Stainless Steel – Highly magnetic, anti-corrosive, low in carbon content such as Grade 430
Martensitic Stainless Steel – Tough, durable, anti-corrosive, and high in carbon, such as Grade 431
Stainless steel can be used to make kitchenware that delivers performance and aesthetics, medical equipment that is clean and sterile, and automobile parts that are lightweight and sturdy. It is important to understand the different types and their composition. This will allow you to choose the stainless steel that suits your business operations in Irvine, California the best.  
Looking for the Premier Stainless Steel Slitting Company in Irvine, California? Contact NKS.
Stainless steel is a very versatile material that's used to manufacture various products and appliances around the world. The construction industry is the largest consumer of steel followed by the transport sector and machinery industry.
If you are a product manufacturer that's looking for a high-quality stainless supplier, then you've come to the right place — National Kwikmetal Service is the premier stainless steel slitting company in Irvine, California. At NKS, we supply stainless steel sheets, coils, and rolls throughout North America that are tailored to our customers' specifications and budgets. Our metallurgists would be happy to discuss your project needs in Irvine, California to help you find the best solution.
Contact us today at 1800-722-5029 (toll-free) to learn how the professionals at NKS can help. You can also submit a form through our website to request a quote.