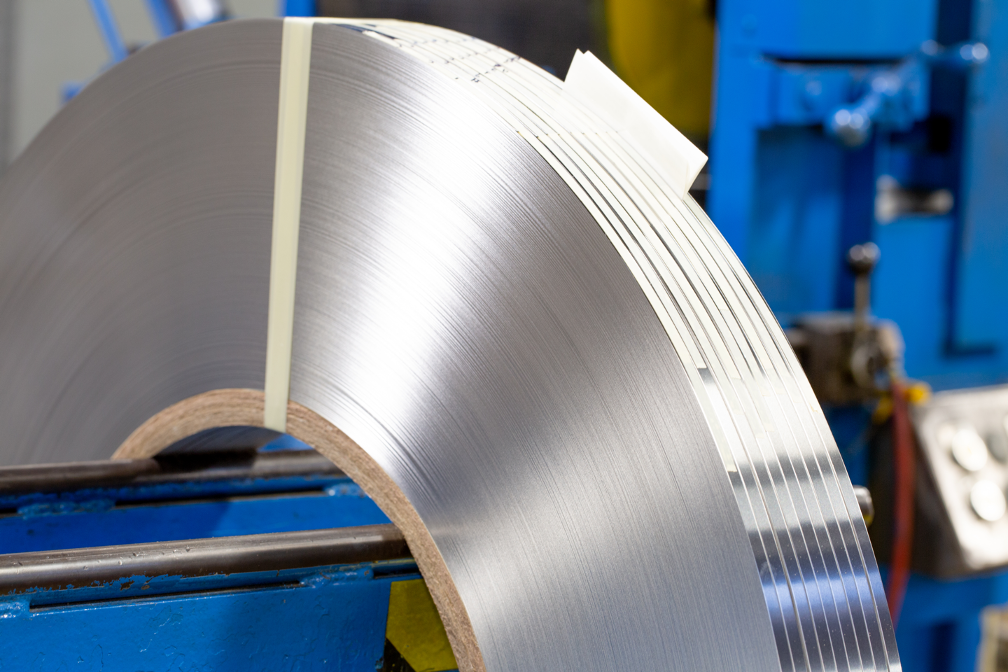 Stainless steel is widely regarded as one of the best and safest manufacturing materials in the industry. However, the quality of the metal makes a world of difference to the final product. The question is: how can you tell whether the stainless steel you are getting is of the highest quality? This stainless steel slitting company in Grand Rapids, Michigan is going to provide some tips below that will help you gauge its quality.
Color
High-quality stainless steel is vibrant, silver, and super smooth to feel. The type that has a chromium-nickel composition might have a grayish-green tint and won't be too shiny. If you identify any other colors or finishes, you may want to check with your stainless steel slitting company in Grand Rapids, Michigan to make sure there weren't any errors during production.
Magnet Test
In some cases, different alloys combine different materials to improve their performance, which can result in the metal becoming magnetic. Although stainless steel isn't usually magnetic, certain types are. This is particularly true for alloys that contain chromium. But that doesn't necessarily make the material inauthentic. The forces between the surface and magnet should be minimal, which you can confirm by performing a magnet test.
Annealing Method
The annealing method helps determine the quality of the material. It's often the last step before rolling the material into sheets. Some stainless steel slitting companies in Grand Rapids, Michigan may heat treat the material to improve its strength — however, even minor changes in the gaining temperatures can significantly impact the material's overall quality.
Durability
There are multiple tests that can be done to determine the durability of your stainless steel. If the material changes shape under pressure, if you notice any abnormalities under extreme temperatures, or if there are color inconsistencies, there may be a problem with the material's durability. One thing to remember here is that, regardless of which grade you choose and regardless of its quality, every metal requires proper maintenance to reach its shelf life.
Technical Details
Grade 304 (with chromium and nickel), for example, is one of the highest quality stainless steels produced today. It is resistant to oxidation and corrosion, easy to sanitize, and durable for indoor applications. Conversely, grade 316 (with an addition of molybdenum) is a more suitable choice for outdoors. Molybdenum makes the material resistant to the harshest of circumstances. Other common types include grades 201, 300, 301, 409, and 430, each of which have slightly different compositions and characteristics. Therefore, before choosing the right grade for your project, it's best to consult with a knowledgeable stainless steel slitting company in Grand Rapids, Michigan to understand each grade's technical details.
What Else Should You Know?
To ensure you get the highest quality stainless steel products, it's important to understand its exact qualities. Here are a few things you should know:
Stainless steel isn't a magnetic product
The metal contains nickel to make it resistant to corrosion
Austenitic steel contains carbon, iron, and chromium to make it weldable, formable, and non-magnetic
Stainless steel isn't sufficiently resistant to stress corrosion cracking
Stainless steel requires proper maintenance
Excessive damage can still corrode the metal
If you have any questions that were not addressed above, you can always get in touch with a reputable stainless steel slitting company in Grand Rapids, Michigan to discuss.
Looking for a Stainless Steel Slitting Company in Grand Rapids, Michigan?
Before choosing a stainless steel grade for your project, it's important to make sure you understand its chemical, mechanical, and physical properties. And when your stainless steel arrives, it's important to inspect the material carefully to make sure it meets your quality standards.
Are you looking for a stainless steel slitting company in Grand Rapids, Michigan that can deliver the highest quality materials to suit your needs? If so, look no further than the team at National Kwikmetal Service (NKS). Contact us today at 1-800-722-5029 to learn how we can help.