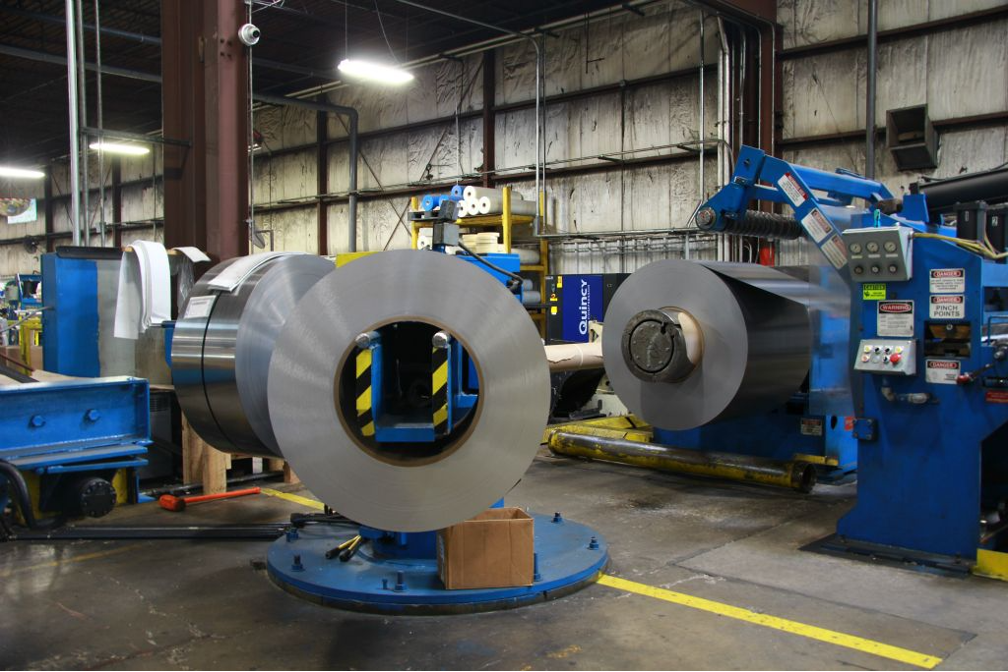 There have been numerous advances in the stainless steel slitting sector in recent decades that allow manufacturers to produce higher-quality products than ever before. Today, manufacturers can find the metals they need with the appropriate characteristics to meet their specific needs. However, finding the right metal supplier can be challenging — and that's where we can help.
Whether you're in the business of manufacturing automotive exhausts, electronic items, HVAC ducts, household appliances, medical devices, or anything else, NKS can help level up your production processes with the right materials. As the premier stainless steel slitting company in Denver, Colorado, you can count on us to deliver on even your most complex projects.
Are you interested in learning about our stainless steel slitting process, and what sets NKS apart from other suppliers in the industry? We are going to explain below.
About Stainless Steel Slitting
Stainless steel slitting is somewhat like shearing. It starts with a stainless steel slab, which is rolled into thin gauges, then is finally recoiled into a larger one. These wider coils are also called master coils, and these are further cut into narrower widths as suggested by different clients to suit their unique manufacturing needs. 
The process doesn't make cuts at the end of the workpiece — rather, slitters splice the coil into custom-specified lengths and widths.
At NKS, we understand that several factors must be taken into consideration to produce the best quality coils, and we strive to manage each variable with every job. As the best stainless steel slitting company in Denver, Colorado, you can be confident that only superior-quality coils will arrive at your facility when you partner with us.
What Makes Us Different?
What makes NKS the top stainless steel slitting company in Denver, Colorado? The entire NKS team specializes in offering advanced support and only quality products. All products undergo stringent tests to ensure you receive the best. Packaging for transportation is also given utmost consideration so your order reaches you in good shape.
Slitters
We have the best-in-class slitters that cut to precise tolerances. Having various slitters allows us to cater to the different needs of every order. We carefully consider the metal, finish, thickness, and width demanded and slit accordingly.
Proper Shaping
Yes, the shape you receive is absolutely important, so the metal smoothly runs through your applications. Therefore, our operators ensure minimum burr and camber with maximum flatness. Every coil is produced per your suggested specs, often with tighter tolerances.
Operators
We not only have top-of-the-line equipment — we also have qualified and knowledgeable operators. They know their machines and have the skills to achieve the best results. They are dedicated to making every pound produced at our facility nothing but the best.
Packaging
Aside from production, we also pay attention to the packaging quality to make sure your material remains protected during transit. It is carefully handled by our staff from when it leaves our facility to when it reaches yours.
Our Specialties
Our stainless steel inventory in the coil form includes the following:
You can check out the product details and our slitting capabilities here. 
While we pride ourselves in being the best stainless steel slitting company in Denver, Colorado, we don't just deal with stainless steel — we can also slit titanium, aluminum, and nickel alloys for our customers. We have trained metallurgists at our in-house metallurgical lab for adequate chemical and physical testing of all materials. This allows us to offer excellence in every project and keep our clients satisfied with our services. 
Looking for the Most Trusted Stainless Steel Slitting Company in Denver, Colorado?
Are you ready to partner with the best stainless steel slitting company in Denver, Colorado? If so, you've come to the right place. At NKS, our staff is equipped to handle all types of metal slitting projects — big or small. Contact us today at 1800-722-5029 to discuss your project.