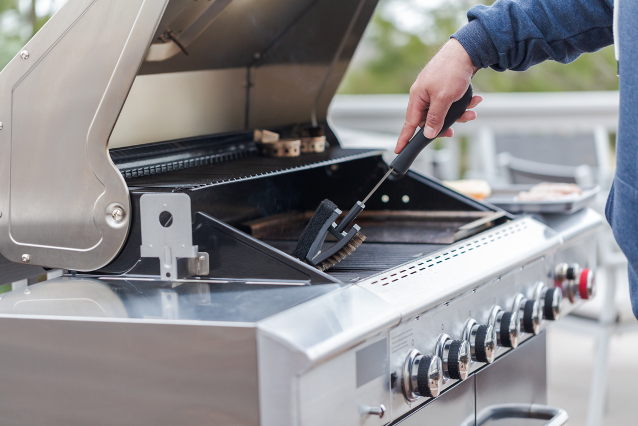 When looking for a stainless steel barbecue grill, you will find two options: austenitic and ferritic steel. Each of these has different properties and responds differently under distinctive environments. Below, this stainless steel slitting company in Charlotte, North Carolina is going to provide a breakdown of the four major grades that that perform well for BBQ grills.
1. Grade 201
 201 stainless steel grade is suitable for high-end barbecue grills. It is excellent, economical, and durable. The grade isn't magnetic, contains chrome, and has recently gained popularity. It stands well against external elements under higher outdoor temperatures and is s a common choice for manufacturing BBQ grills. Also, since grade 201 contains nitrogen, it reduces the cost significantly. It is more susceptible to corrosion than other stainless steel, but it has great durability.
2. Grade 304
Grade 304 is an austenitic stainless steel type and one of the most common varieties used in the industry. It is durable, long-lasting, expensive, and commonly available. Type 304 contains 18 – 20% chromium amounts and around 8 – 10.5% nickel amounts. This chemical makeup offers the product its resistance abilities in most weather conditions. It is considered an exceptional choice for outdoor grills but comes at a higher price.  
3. Grade 430
Type 430 is a ferritic stainless steel product containing 17% chromium and 0.12% carbon content. These amounts make the grade suitable for manufacturing top-quality charcoal grills and smokers resistant to mildly corrosive environments. The 430 stainless steel has more steel amounts and is also magnetic. It is used as a finishing material for BBQ grills, panels, and doors. It is a cheaper alternative to type 304. The grade is easy to source and can provide pleasing aesthetics to the final product.
If you are looking for a 430 stainless steel slitting company in Charlotte, North Carolina, NKS can help.  
4. Grade 443
This one is a bit rare but gaining popularity for manufacturing BBQ products and accessories. Although ferritic stainless steel isn't comparable to austenitic types, grade 443 is different. It is rust-resistant, magnetic due to its high chrome content, and guarantees toughness in most temperatures. The metal expands less with heat, is as corrosion resistant as type 304, and is one of the preferred 400 series products for BBQ grills.
Why Stainless Steel BBQ Grills?
Stainless steel is quite resistant to bacterial growth, stains, corrosion and is aesthetically pleasing. It is safe to use, low-maintenance, long-lasting, and high-performing. It is suitable for BBQ grills and smokers both small and large. It can also easily stand sun, rain, wind, and salt.
If you manufacture BBQ grills and are looking for an appropriate base material, stainless steel can be your go-to choice. Stainless steel makes lightweight, stable, affordable, and corrosion-proof grills. At NKS, we are a stainless steel slitting company in Charlotte, North Carolina, helping North Carolina businesses put their best foot forward. You can trust our expertise to accomplish your manufacturing goals. 
Are You Looking for a Stainless Steel Slitting Company in Charlotte, North Carolina?
Choosing the best stainless steel grade is a matter of personal preference, budget, and specific end-use. At NKS, we receive queries from all types of manufacturing companies looking for stainless steel slitting services in Charlotte, North Carolina. If you are having difficulty deciding on the right grade or slit length, our experts are here to help you decide.
Our knowledgeable metallurgists can help you navigate through the different options, as well as our slitting capabilities. Contact us today at 1800-722-5029 (toll-free) to learn about our inventory.