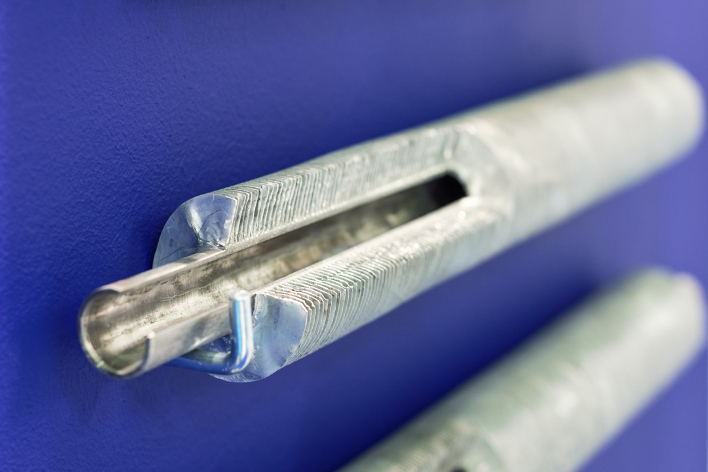 What are Finned Tubes?
Finned Tubes are a series of tubes used in applications involving the transfer of heat from a hot fluid to a cold fluid through a tube wall. In other words, finned tubes use their "fins" to increase the surface area against which the outside fluid comes in contact. The tube then exchanges the heat between the fluid inside the tube and the fluid outside of the tube. These tubes are often made with Stainless Steel, specifically 300 and 400 series, because of a few key characteristics that the specialty metal boasts.
At NKS we have what you need to manufacture Finned Tubing. We guarantee the best quality product for all of your Stainless Steel needs. Finned Tubes come in a myriad of shapes and are often used in cooling condensers in powerplants. The manufacturing of the finned tube, and the material with which the finned tube is manufactured, can affect the rate at which heat is transferred between the two fluids. Specifically, the rate of transfer is influenced by the surface area to which each fluid is exposed, the heat transfer coefficient between each of the fluids and the tube wall, and the temperature difference between the two fluids. The greater the surface area, the greater the rate of transfer and the fewer tubes required for a given application. This can vastly reduce the overall equipment size and the cost of a project. That's why the increase of outside surface area is vital to the efficiency of the heat transfer. Finned Tubing is applied to a number of industries, including: coils for hybrid cooling towers, printing machines, chemical industry, solvent recovery, production of surface coatings, wood industry, cooling of turbine air intakes, greenhouses and breeding, plastic molding industry, anti-freeze coils, textile production, food industry, paper works and tanneries.
Oil and Gas Sector
With the overall success of the transfer of heat, Finned Tubing is wildly popular in the oil and gas industry. As liquid flows through the inside of a finned tube there is often air or some other gas flowing outside of the tube. Most Finned Tube heat exchangers are crossflow. They act as a great heat exchanger when one of the transfer variables is gas or air. Extruded Fin Tubes, tubes manufactured with extrusion that is radially crushed on the lining, often provide a highly efficient surface area for a heat exchanger tube. The kinds of transfers these tubes are often used for in this sector include transfer from liquid to gas, thermal fluid to air, and vapor to gas.
Why Use Stainless Steel?
Stainless Steel has a diversified application, because unlike other metals, Stainless Steel has certain characteristics that make the specialty metal a safe and cost-effective choice to a variety of manufacturers. Those characteristics include:
Good corrosion resistance
Smooth Surface
High Strength
Malleability
Easy Maintenance
Stainless Steel is a choice material is such industries as: Aerospace, Appliance, Architecture & Construction, Automotive, Chemical Processing, Electronic, Food Service, HVAC, Medical, Marine, Power Generation, Oil and Gas, and Tool and Die.
300 Series in Finned Tubing
300 Series Stainless is a particularly popular choice when it comes to the manufacturing of Finned Tubing. Type 301 Stainless Steel is an austenitic chromium-nickel Stainless Steel that provides high strength and good ductility when cold worked. 304 Stainless Steel is, in the annealed condition, essentially non-magnetic and becomes slightly magnetic with the application of cold work. Type 304L Stainless Steel is preferred in welding applications. Type 316 Stainless Steel is an austenitic chromium nickel Stainless Steel containing molybdenum. This addition increases general corrosion resistance, improves resistance to pitting from chloride ion solutions, and provides increased strength at elevated temperatures. These are just some of the many grades of Stainless Steel that NKS stocks in our inventory. When it comes to Finned Tubing, corrosion resistance can be key. That's why customers come to us when sourcing material for this application. We've got you covered.
400 Series in Finned Tubing
400 Series Stainless, on the other hand, boasts additional features that might appeal to this particular end-user. 400 Series Stainless, particularly 409, 430 and 439, provide improved oxidation and corrosion resistance compared to carbon steel. When application temperatures are too high for Type 409, Type 439 provides good oxidation and corrosion resistance for many automotive exhaust system components and residential furnace primary heat exchangers.
NKS Has What You Need for to Manufacture Finned Tubes
Our staff at NKS is ready to consult with you on your specific needs when it comes to the manufacturing of Finned Tubing. Depending on your intended application, we can advise you on the material that will best fit your needs. With eight slitters in four facilities across the US and Mexico, we offer a wide range of gauges, as well as a cut-to-length line. Get in touch with us today by calling (800) 722-5029 or request a quote on our website.