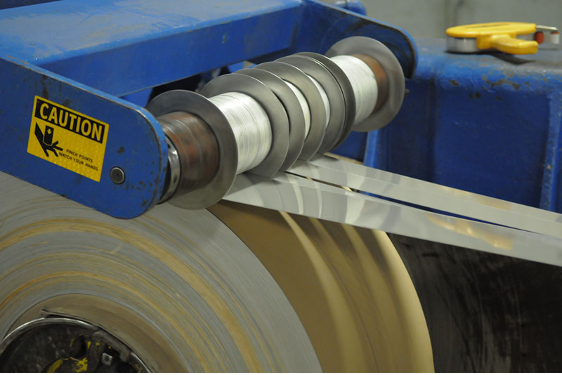 At National Kiwkmetal Service, we offer unique aluminum and stainless steel slitting services in Ft Worth with an emphasis on providing custom specifications as stated by our customers. Whether the material is from our inventory or supplied by you, we can slit the metal according to your exact needs.
In this article, we're going to discuss everything you need to know about stainless steel and aluminum slitting:
What is Stainless Steel Metal Slitting?
Using specialized steel slitting equipment, operators produce customer-specific widths of metal that are free from camber, burr, or other impairments. These slitters are specially designed with a certain mass in order to slit uniformly. Each slit cut are rewound onto the recoilers, and the slit product is then banded and sent for packaging. 
Each machine has different range of thickness capabilities. Also the slitters usually have a minimum and maximum width capability as well. Depending on the raw material thickness it may only allow to cut a certain number of slit widths, before it has to be multed first and the reslit to the final customer requirement.
How do Stainless Steel and Aluminum Slitters Work?
To put it simply, stainless steel metal slitters take wide coils lengthwise and slit those into narrower widths. Sharp and circular blades, simply referred to as knives, perform the cuts. It's a unique process that requires specialized equipment to obtain quality products.
Our operators are trained professionals who understand the procedure, as well as how the metal performs under different circumstances. This knowledge gives them the ability to ensure perfection with each and every order.
What are the Benefits of Stainless Steel and Aluminum Slitting?
Having your stainless steel coils slit by a professional metal distributor has several benefits. It provides added convenience and saves your time so that you can focus more on your business needs. Some of the benefits of stainless steel metal slitting include:
Quality: Reducing  and minimizing the amount of burr, camber
Tight Tolerance: Your particular industry needs (automotive, agriculture, construction, etc.) determine the type of metal you'll need, and how it needs to be slit. If your end use demands tight tolerances during processing, having the coil pre-cut to your desired lengths may be a suitable option.
Product Consistency: Expert slitting allows for better product consistency. Accurately measured coils are fed through our state-of-the-art equipment to produce the customer-specific final output.
Reduced Scrap: Our high-quality machinery and expert processes result in less wasted material.
NKS Metal Slitting Services
Stainless steel metal slitting involves splicing a master coil through a set of slitting knives to produce narrower coils as per your needs. When you partner with NKS for your metal slitting services, we guarantee that you'll receive the best in class service and products that surpass industry standards.
Our metal slitting capabilities at NKS are completely tailored to your unique needs. We strive to deliver precision and value-added services. From the time we accept your order, to the point of final delivery, and everything in between, you can count on us. Contact NKS for more information on the different types of stainless steel and aluminum we can slit.
Need Aluminum or Stainless Steel, Blanks or Coils Slitting Services in Ft Worth, Texas?
We offer precision slitting services for stainless steel and aluminum products that are made-to-measure, and our team is capable of handling both small and large productions. Our expertise allows us to deploy functional equipment and a skilled crew to fulfill your precise needs carefully.
NKS has gained a reputation as being an industry leader when it comes to metal slitting. With a quick turnaround times, NKS can consistently meet your delivery requests. Requesting a quote is an excellent way to get started.
You can call us today at 1.800.722.5029 (toll-free) to discuss your requirements. We'll be happy to discuss your project and help you achieve the desired results. You can also request a quote to learn how our slitting capabilities can help you save time and other resources.