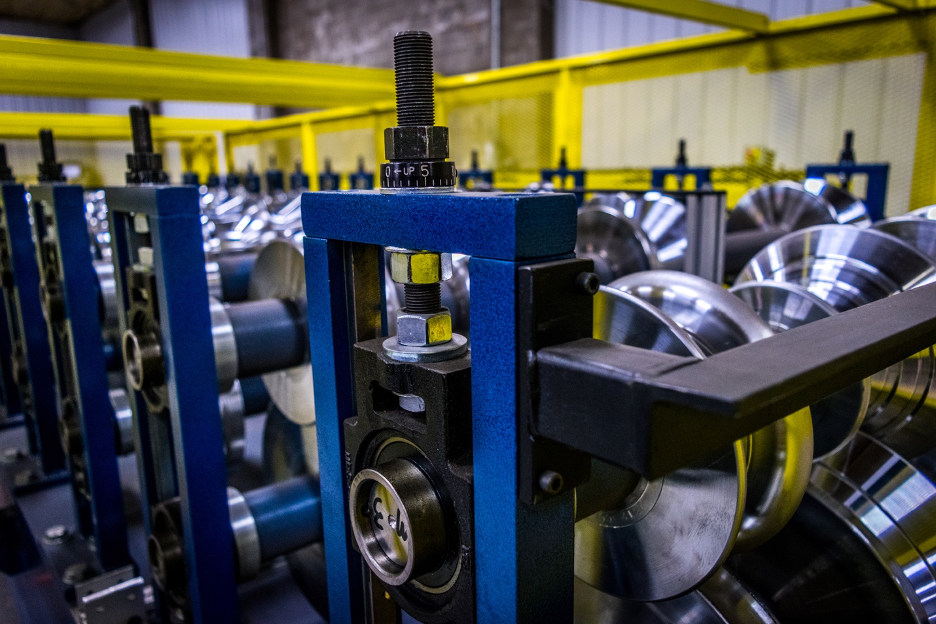 Stainless Steel and Aluminum are strong yet malleable metals. With its vast array of processing capabilities NKS provides quality material fit for your intended application.
A great use of the flexibility of Stainless Steel and Aluminum is the process of Roll Forming. Roll Forming steel is the continuous bending of a metal strip at room temperature. This process progressively shapes the metal until it achieves the desired profile. Tandem sets of rolls progressively shape the metal until the desired cross-sectional profile is achieved.
Virtually any Stainless Steel or Aluminum that can be formed in sheet-form can also be Roll Formed. Roll Forming is an ideal process when producing long lengths of metal or large quantities. Therefore, it is a preferred technique in large volume projects.
What are the benefits to rolling forming?
Roll Forming has a number of benefits including:
the technique can produce material in a variety of lengths from the same roll set
it has a high productivity rate
the process can reduce packaging and shipping costs
multiple manufacturing operations can occur on Roll Formed material, in-line, effectively reducing manufacturing costs.
Application
Stainless Steel and Aluminum Roll Forming is used in the manufacturing of medical devices, food handling equipment, dairy equipment, and chemical equipment. This material is also applied in sectors such as Aerospace, Appliance, Automotive, Construction, Energy, HVAC, Solar and Tube & Piping.
Roll Formed Steel
Stainless Steel and Aluminum are often selected for the Roll Forming application because of their resistance to corrosion and performance under heat. There are a few types of Stainless Steel and Aluminum that are often sought after for this intended application. In Stainless Steel Austenitic 200 and 300 series is often used in Roll Forming because Austenitic Stainless is ductile. Specifically, 304L and 316L Stainless are often selected for this application. Type 304L Stainless Steel is the most widely used of the austenitic (chromium/nickel) Stainless Steels. In the annealed condition it is essentially non-magnetic and becomes slightly magnetic with the application of cold work. Type 304L Stainless Steel is preferred in welding applications to exclude the formation of chromium carbides during cooling in the heat affected region of the weld. These alloys represent an excellent combination of corrosion resistance and fabricability. Type 316L Stainless Steel is an austenitic chromium nickel Stainless Steel containing molybdenum. This addition increases general corrosion resistance, improves resistance to pitting from chloride ion solutions, and provides increased strength at elevated temperatures. These properties are similar to those of Type 304L except that this alloy is somewhat stronger at elevated temperatures. Type 316L Stainless Steel is an extra-low carbon version of Type 316L that minimizes harmful carbide precipitation in the heat affected zone during welding.
While Stainless Steel boasts increased strength because of its chemical components, Aluminum is a far more malleable metal. Roll Forming of Aluminum is easier than Stainless Steel. That said, increased attention must be paid to setting and adjusting roll gaps to prevent surface marks. The 3000 series alloys, specifically 3003, 3004, and 3105, are used most frequently by Roll Formers. NKS Alloys provides top quality anodized aluminum products in both clear and unsealed, and in a variety of colors. Anodized Aluminum is available in gauges varying between 0.012″ to 0.125″, in sheet or coil form. NKS Alloys can provide either large or small quantities of this material.
We Provide For Your Roll Forming Needs
NKS in one of the fastest growing Stainless Steel and Aluminum service centers in the USA. We have accomplished this by offering quality products at competitive prices, as well as superior service and support. NKS is recognized in the industry as a leader in Stainless Steel slitting and slitting technology. Whether it's the unique chemistry used in our slitter knives, our shim-less tooling or our expert in-house grinding capabilities, NKS has the technology to guarantee the edge quality of your stainless steel coil. Our wide range of slitting capabilities ensure that we have the right equipment to quickly and efficiently process your orders. With eight high-performance slitters available, NKS will review each order individually to determine which machine will be the best fit for you. Based on the material properties, the gauge and the final slit width, we can assign the material to the correct slitting line that provides the best slitting performance possible.
Our job is not done when we have finished slitting your material. At NKS we are proud of the appearance and performance of our standard packaging. Our skids are custom designed for strength and the ease with which they can be moved with lifting equipment. We use a moisture barrier between the skid and the Stainless Steel or Aluminum coils, and every skid has a plastic shroud. We can also meet the most demanding customer packaging specifications.
At NKS our job is to meet all of your Stainless Steel and Aluminum needs. Count on NKS to provide the service you need from order entry to delivery and everything in between. We ensure the quality material for all of your Roll Forming needs. Visit our page to request a quote today.