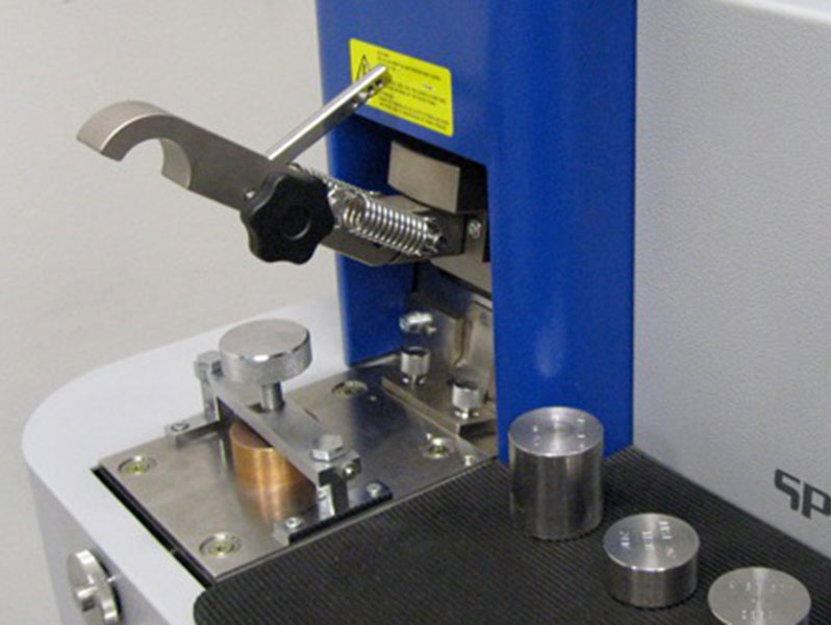 Metal materials are one of the basic necessities and building blocks for designers, architects, and engineers.
Metallurgy is a branch of material science that involves the study of the physical and chemical behavior of metallic elements, their mixtures, and inter-metallic components — also known as alloys.
NKS is unique in that it has its own in-house testing capability. Not only does that ensure that the materials you source from NKS are of the best possible quality, it also allows us to provide information to our customer about the physical, chemical, and mechanical properties of every piece of metal we sell.
So, let's take a tour of the NKS in-house Metallurgy Department, otherwise known as NKS Stainless Testing.
At NKS we use testing equipment like tension testers, and metal analyzers to determine the proper grade for our customer's intended application.
Tensile Testing
This test measures the material as it is being pulled. That allows us to obtain a complete profile of the metal's tensile properties. This results in a stress/strain curve which measures how the material is reacting to the applied force. The specific properties being measured are the elasticity, yield strength and strain. By running the material through this test we can help our customers avoid malfunction or mis-application of the material. NKS ensures that the material you source from us is exactly what you need for your intended application.
Rockwell Hardness Testing
Hardness is defined as the resistance to indentation. This test, as you might have guessed, tests the hardness of the metal. How does it do that? Well, this test uses a fixed force and an indenter. It then measures the size of the indentation made. The smaller the indentation, the harder the material. Again, NKS uses this test to make sure that our materials meet your needs.
Bend
This test measures the metals ductibility, bend strength, fracture strength, and resistance to fracture. It does this by bending the test material at the midpoint, causing a concave surface without the occurrence of a fracture. With this test we are measuring the kinds of stress and degree of stress the material can withstand. This will come in handy in any area of manufacturing but particularly in structural engineering.
Surface Finish Testing
This process tests the material's surface and characterizes the quality of the surface of the material. The measurement of the surface roughness is a quantitative assessment and tracks any irregularities in the material. The sample material that we use in this test must be large enough to average the roughness frequency multiple times.  In this test we also generate a chemical analysis using Optical Emission Spectroscopy.
Chemical Analysis
At NKS we use Optical Emission Spectroscopy (OES) to provide you with a full chemical analysis of your material. OES can analyze, in detail, the elemental composition in solid metal. This test will give you access to a 360-perspective of the Stainless or Aluminum that you source from NKS
What is Metallurgical Engineering?
Metals are the backbone of just about every modern tool, gadget, instrument, or piece of electronic technology that we use. At NKS our materials serve manufacturers in a wide range of industries. For example, the high temperature, strength and corrosion resistance of stainless steel is critical in aerospace environments. NKS supplies products for Commercial, Military, General Aviation Aircraft, jet engines, and space vehicles. In the appliance field, 300 and 400 series are traditionally used in both exposed and non-exposed appliance applications. These include both residential and commercial appliances, such as kitchen and laundry equipment. Material can be supplied in a variety of finishes from bright and reflective, to a brush finish. And in the Architecture and Construction industry, the "Green" properties of Stainless Steel meet today's environments requirements. Stainless Steel hardware, hand rails, plumbing fixtures, pipe lines, facades and elevators are some of the more popular applications. These are only some of the industries we serve at NKS. By building on our sourcing, production and technical expertise in a variety of markets, NKS can be your partner in achieving your mission. 
Modern-day metallurgical engineers are constantly striving to design products and processes that are environmentally friendly. Their main focus is to minimize waste, increase performance, maximize energy efficiency, and facilitate recycling.
In the current decade, metallurgists are primarily focused on developing new materials and testing them in order to meet the demands of specific applications for temperature, pressure, conductivity, and speed. Since we can now measure properties at the macro, micro, nano, and atomic scales, we have unprecedented access to stem new developments. Alternatively, a metallurgical engineer is also able to determine the cause of defects in metals and suggest appropriate solutions.
It is forecasted that, in the upcoming years, our technical and economic progress will depend mostly on advancements made by research and development in mineral and metal technology.
Are you looking for metallurgical testing or metallurgical lab work?
If you are looking for a metallurgical testing or metallurgical lab work, then National Kwikmetal Service is the company to call.
Along with stainless steel slitting, we also provide metallurgical testing and lab work services. Our team of qualified professionals will be happy to answer any questions you may have regarding our metallurgical testing process.
Contact us today to discuss your needs, or to request a free quote! If you have questions. You can also reach us at Inquiry@nks.com for metal inquiries. To receive answers to technical questions regarding your Stainless or Aluminum requirements please contact metallurgist@nks.com.