Like many businesses, large and small, across the nation, NKS is doing our part to fight COVID-19. With our diverse inventory of Stainless Steel and Aluminum grades, and our range of processing capabilities, we are a critical part of the supply chain in the fabrication of ventilators and face masks.
The United States is experiencing shortages in the resources we need to fight this virus. Medical professionals continuously express their concern about the shortage of protective gear (face masks and gloves) for the nurses and doctors on the frontlines of this battle. There is also a nationwide concern about the shortage of ventilators, a device used to help patients breath comfortably.
So where does NKS come in?
Face Masks:
NKS is providing aluminum products for manufacturers of face masks. There are multiple types of medical face masks. Most of these masks have a flat-pleated or duck-like shape and they conform to the bridge of the nose with a flexible aluminum nose clip. The N95 Respirator, for example, is a protective mask designed to achieve a very close facial fit, as well as efficient filtration of airborne particles.
Aluminum being a malleable and light-weight metal makes it the perfect fit for face masks of all sizes and shapes. The aluminum used in face masks, including the N95 Respirator, ranges in grades and width. These nose clips utilize aluminum that is slit to a width range of .165"-.300" wide. Fortunately, NKS has it covered. NKS stocks and processes all grades of aluminum and Stainless Steel ranging from .0015"-.187" and widths from 0.165" to 52" in flat rolled coil. So, whatever you need, we got it!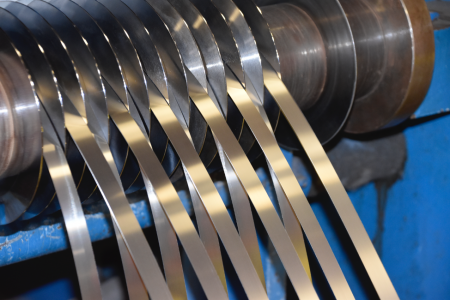 Ventilators:
Ventilators are devices that help people breath. Especially when the lungs are inflamed, ventilators push oxygen in and out of the body. Did you know that there are over 700 parts in a ventilator! That is 700 parts that have to be outsourced. And, as you may have guessed many of those parts are made of premier metals like stainless steel and aluminum.
So, there are lot of parts to source in the manufacturing of ventilators. Some small ventilator manufacturing companies do not have access to the number of vendors required in order to meet that demand. That is why small ventilator manufacturing companies have turned to major conglomerate like General Motors. General Motors has access to a wide range of vendors worldwide. They are now being asked by these small ventilator manufacturing companies to reconfigure their assembly line and help create materials that will be used in ventilators.
But, as you might imagine, precision is key. With such a critical demand, and with lives at stake, the grade of metal and the size of the metal has to be exact. At NKS our shimless tooling is certified to +/- .00040". This is the type of precision that is required in this critical part of the supply chain.
NKS has a large and diversified inventory of different grades, gauges, tempers, and finishes, allowing us to provide a broad range of products to our customers. With eight slitters across four locations we are able to slit metal .187" to 52" wide and, in doing so, meet the needs of manufacturers across the nation and the world. In addition to slitting stainless and aluminum coil, we also have metallurgical services and R&D capabilities that allow our customers to better serve their customers.
That is what makes NKS an essential business. And that is why we are working around the clock to make sure the manufacturers of these critical materials get exactly what they need. At NKS we have the personnel, the equipment and the wherewithal to help fight COVID-19. Contact us today to get started.