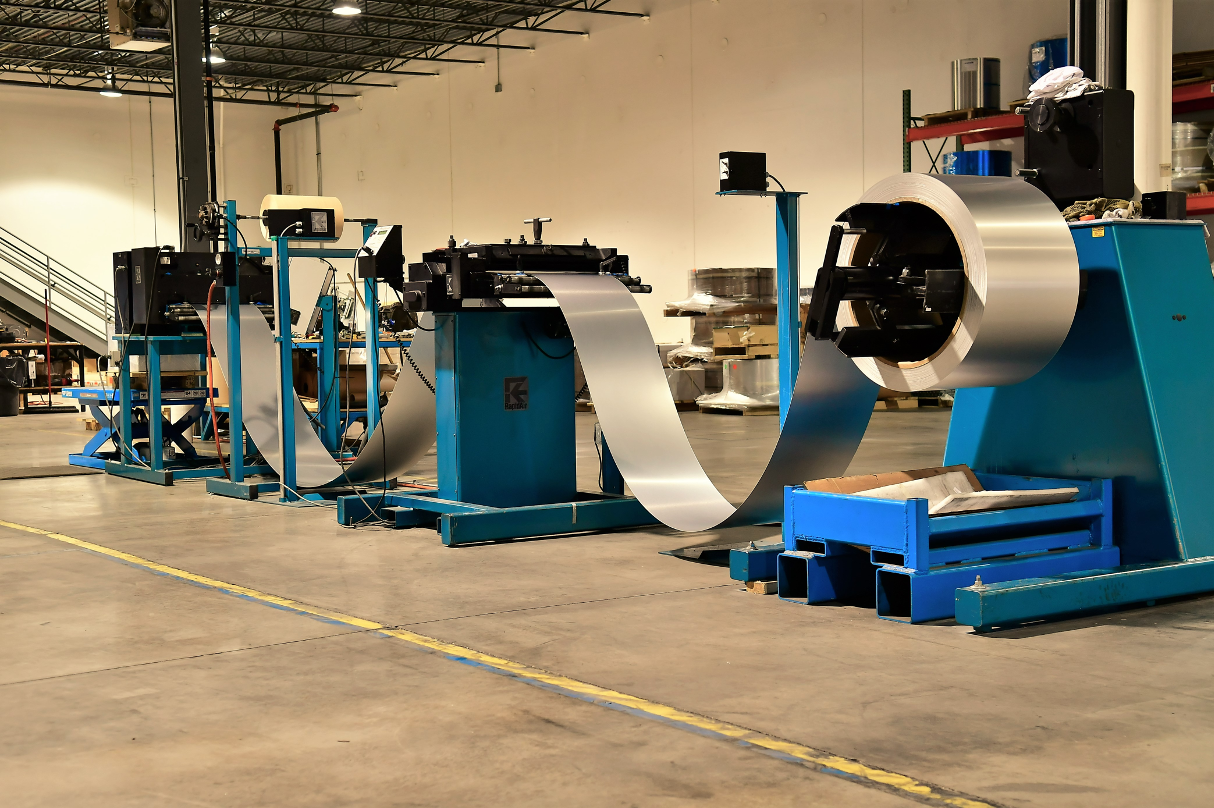 Aluminum, being a lightweight metal, is widely used for a variety of purposes across a number of different industries. Precision slit aluminum coils are used in many manufacturing sectors such as, automotive, computer hardware, airplane parts, window frames, signage, and much more. At National Kwikmetal Service (NKS), we have a massive inventory with several different grades, thicknesses, finishes, and tempers of aluminum. We source these from all over the world to provide you, our valued customers, with best-in-market aluminum blanks and coils.
Aluminum Slitting Lines at NKS
Experts at NKS understand that aluminum slitting is different than slitting stainless steel, simply based on the density and the overall softness of aluminum. So several considerations are kept in mind throughout the process. These may include the break to shear ratio, clearances and cleanliness of the knives. Being able to adequately meet these variables on a daily basis while under the pressure of a production schedule is what sets NKS apart from the competition. Since we are committed to quality assurances, we make sure that the level of competence is exhibited in the final product. Our capabilities include prototyping, low and high-volume production, and short and long-run production across North America.
At NKS, our nonferrous service centers provide the following grades of aluminum: 1XXX, 3XXX, 5XXX and 8XXX, both Annealed and Tempered. For 1XXX, 3XXX and 8XXX grades we provide gauge ranges of 0.014 to 0.125. For 5XXX grades of aluminum we provide gauge ranges 0.007 to 0.100. There is no minimum quantities and all tempers are available. Our finishes include Mill Finish, OSB, Anodized, and Painted.
As far as our aluminum slitting capabilities go, the gauge ranges from 003" to .165". And, the cut to length capabilities have a gauge range from .003" to .050", with width ranging from .187" to 24.000". Please consult with our sales team experts. We will meet all of your specifications and expectations in quality and service.
Cut to Length / Blanking  at NKS
NKS offers cut to length line/blanking capabilities which allows customized cut to length blanks to maximize efficiencies and reduce scrap. Our 24" cut to length line can level gauges ranging from .004" - .040", width range of .500" – 24.0" and a length range of 1" – 144". With the ability to supply a single sheet or truckload quantities NKS  customized packaging allows us to ship any place around the world. It's our number one goal to service and exceed our customer's expectations.
Looking For Reliable Aluminum Slitting Services? Contact Us!
National Kwikmetal Service is an ISO 9001:2015 certified supplier where we firmly believe in quality and professionalism in everything we do. We serve a number of different industries, including aerospace, household appliances, construction, automotive, petrochemical, medical, HVAC, stamping, food service, and many more. With our state-of-the-art facilities, NKS is well prepared to meet all of your aluminum slitting needs, or for that matter, even your stainless steel slitting needs. Plus, we have no minimum requirements.
Our aluminum and stainless steel slitting services are available at our facilities throughout North America. Whenever you're ready to place an order, we will be ready to accommodate you. Call us at 1800-722-5029 (toll-free) or request a quote here. Our sales team will be more than happy to discuss your project to help you achieve the desired results.