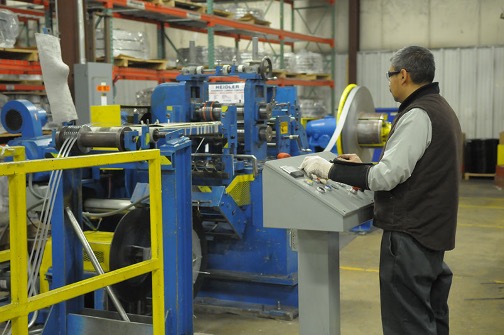 Custom nameplates are a critical component in various industries. These nameplates help communicate vital information, and quality production ensures greater longevity of these nameplates. When trying to decide on the right base metal to manufacture nameplates in Richmond, most people narrow their choices down to two metals: stainless steel and aluminum. Each of these metals can withstand the effects of corrosive substances and harsh environments. However, when you compare the two, you'll find that they have a few key differences, which is why it's important to consider your choice of metal carefully.
If you wonder whether stainless steel or aluminum nameplates are the best fit for your applications, then you've come to the right place. To help you decide, this aluminum slitting company in Richmond, Virginia is going to discuss everything you'll need to know below.
Stainless Steel Nameplates
Stainless steel nameplates are durable, highly resistant, and commonplace in industrial applications. Their welding process is relatively simple, which makes the attachment process quick and easy. It also consists of hygienic properties, which means bacteria don't adhere to the surface of stainless steel. Plus, the stainless characteristic gives it an attractive finish and long-term value above many other metals.
Thanks to its versatility and hard-wearing characteristics, stainless steel can be used in the aerospace, defense, military, manufacturing, government, transportation, food services, and more. These nameplates can withstand harsh environments, allow for customization, and look fantastic. However, as any reputable aluminum slitting company in Richmond, Virginia will tell you, stainless steel is heavier than aluminum. This is important to note, as it sometimes limits the use of stainless steel in specific applications.
Aluminum Nameplates
Aluminum is versatile and a lightweight material that can be used to produce rust and tarnish-resistant nameplates. It is durable, 100% recyclable, and can be fabricated well. Aluminum nameplates can also be anodized, unlike stainless steel, which is one of the notable differences between the two.
When you partner with a reputable aluminum slitting company in Richmond, Virginia, ordering high-quality aluminum is relatively affordable. Plus, aluminum nameplates are easy to engrave, emboss, etch, mark, and stamp. In fact, the metal is suitable for customized tagging and labeling applications as well.
So whether these are for personal, commercial, or decorative use, aluminum nameplates are a perfect solution to suit every budget and use. Automotive, recreational, restaurant, transportation, and industrial sectors benefit the most from using heavy-duty, aluminum nameplates.
There are clear advantages of working with aluminum for your specific requirements. Hence, it is the metal of choice for those looking to manufacture strong yet affordable badges, nameplates, and IDs.  
Which Is Better?
When trying to decide on the right material, any knowledgeable aluminum slitting company in Richmond, Virginia will tell you there is no right or wrong choice. Choosing the suitable metal depends on your preferences, budget, and requirements. Both metals are high performing, have exceptional durability, and offer a premium appearance. These also present diverse design possibilities. Where stainless steel can hold up to the most demanding environments, aluminum is lightweight, cost-effective, and quickly gets the job done.
Looking for the Top-Rated Aluminum Slitting Company in Richmond, Virginia?
Have you chosen the ideal material for your nameplates? If so, and if you're looking for the top-rated aluminum slitting company in Richmond, Virginia, you've come to the right place — National Kwikmetal Service is here to help. At NKS, we stock a variety of high-quality stainless steel and aluminum products that are suitable for many different applications. Regardless of your unique needs, we can help you decide on the right materials.
Ready to get started? Contact the NKS team today at 1800-722-5029 to discuss your project details.