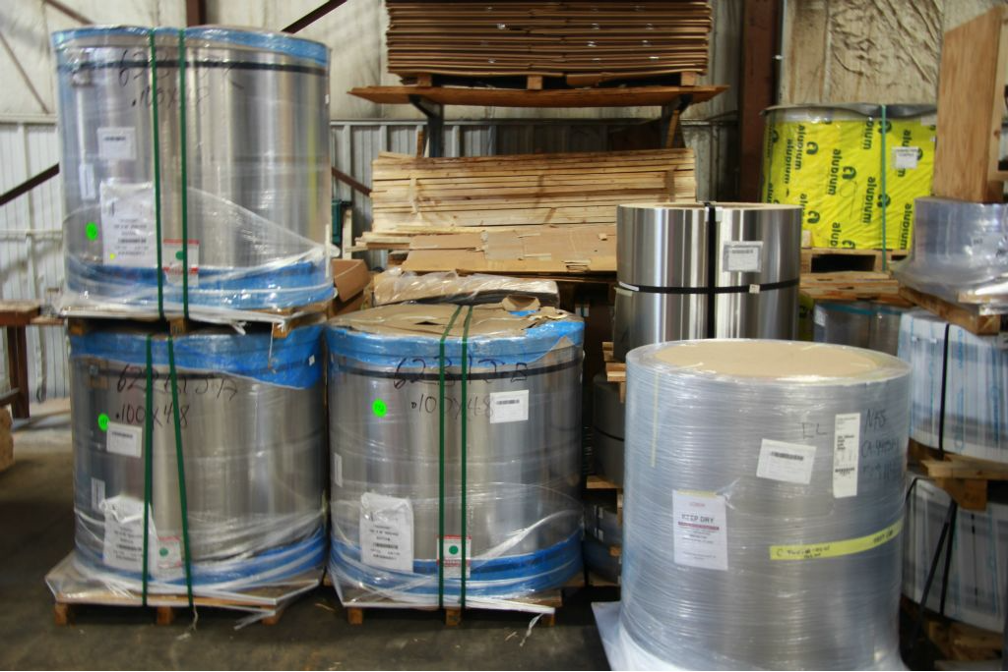 Aluminum coils are spirals of metal that have been wound around a core cylinder that are designed to be used during manufacturing processes. The coils come in different grades of aluminum that offer different characteristics, which are based on their end-use. Depending on the application it's going to be used for, aluminum coils can be heat or non-heat treated, pre-painted, diamond-coated, etc.
If you are a manufacturer, there are a few key things you should consider when picking out the right type of aluminum coils for your manufacturing needs. Not sure what type you need? That's where we can help. As the premier aluminum slitting company in Detroit, Michigan, our goal is to help businesses owners make informed decisions when purchasing manufacturing materials. We are going to discuss some of the things you should consider before purchasing aluminum coils for your business below.
Choosing Aluminum Coils
Aluminum is a durable and pretty malleable material. It is a widely used non-ferrous metal ideal for food processing, automotive, aerospace, defense applications, and more. It is far superior to many other metals in several instances. The metal can be easily machined into coils to provide consistent strength and unmatched value. 
Choosing quality aluminum coils depends on the specific use and performance scenarios. So, before hiring the services of just any aluminum slitting company in Detroit, Michigan, you should pay attention to the following aspects:
Aging and corrosion resistance
Weldability
Formability
Thermal conductivity
The choice of aluminum grade
Lightweight product
Aluminum coils are widely used in manufacturing electronics, construction components, packaging items, industrial machinery, etc. Different aluminum grades — such as Grade 1100, 3003, 3105, 1050, and 1070 — can be used for numerous purposes. Considering the aspects mentioned above will translate into greater durability of the final product, which your clients can rely on.
In addition to that, you can speak to the nearest aluminum slitting company in Detroit, Michigan to decide on the ideal type of aluminum for your uses. A professional can help you make a reliable purchase and provide safe and speedy deliveries of the most high-quality aluminum products. Make sure you do not compromise on the material quality to get a low-priced rate. This can ultimately cost you your entire final production and tarnish your reputation.
Why Should You Partner with National Kwikmetal Services?
For companies that require aluminum as a raw material for their manufacturing processes, the key is to choose the right supplier. As the top-rated aluminum slitting company in Detroit, Michigan, NKS has what it takes to meet the needs of manufacturers throughout the Midwest and beyond. If you are looking to purchase high-quality, ready-to-use aluminum coils, you can consult our sales representatives to provide a free, no-obligation quote. 
In addition to the standard stock, we also carry customizable products. We can slit coils depending on your exact specifications thanks to our cut-to-length process, which is an environmental-friendly process that helps reduce wastage during manufacturing. 
Plus, we also have our own in-house metallurgical testing services to help you avoid any challenges when choosing the proper grade of aluminum. Our metallurgists are here to assist you with your specific needs. 
Are You Looking for an Aluminum Slitting Company in Detroit, Michigan?
If you are looking for a reputable and reliable aluminum slitting company in Detroit, Michigan, National Kwikmetal Services is the company to call. You can count on our expertise and state-of-the-art slitting operators to provide the high-quality aluminum coils your business needs. Contact us today at 1-800-722-5029 to learn how we can help.