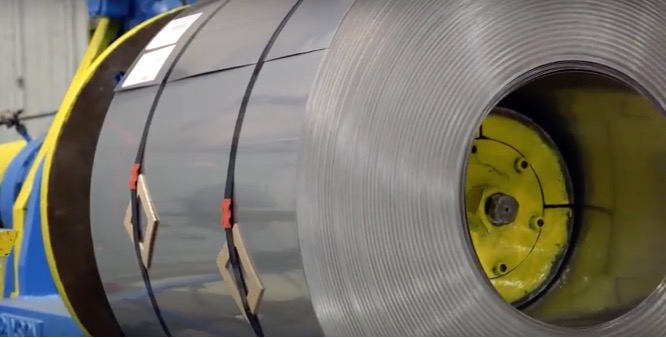 Are you looking for stainless steel coil, roll, or strips with mechanical properties that outshine their physical appearance? Type 409 stainless steel, a utility-grade product, could be an excellent choice. This general-purpose, titanium stabilized stainless steel grade is often used in scenarios that demand oxidation and corrosion protection, such as automotive exhaust systems. However, good formidability, medium strength, and decent weldability properties have led to the grade's use in many other applications. Without further ado, here is everything you'll want to know about type 409 stainless steel in San Antonio:
An Introduction to 409 Stainless Steel Slitting on San Antonio
Grade 409 is a ferritic stainless steel type that offers decent mechanical properties along with higher temperature resistance. In most cases, it is considered as a chromium stainless steel in applications that demand a higher level of weldability. You can also find it in stabilized forms, and this stability is achieved due to the presence of niobium and/or titanium in the composition. Moreover, it is the 11% chromium content that gives this type of stainless steel so many of its desirable properties.
An important thing to note here is that the 409 grade is not recommended to be used for surface critical or cosmetic applications, as it can rust easily in certain atmospheric conditions. The surface can stain relatively quickly, but the rate of metal loss is much lower than carbon steel.
Not All 409 Stainless Steel In San Antonio Is Created the Same
Quality control standards determine the thickness, inclusions, and the annealing of grade 409 stainless steel. Inconsistency in these variables can result in material failures, excessive corrosion, and other structural problems with the final product. As a result, several tests are used to prove the strength and integrity of the steel before it is put to use.
Corrosion Resistance
Grade 409 offers exceptional resistance to atmospheric corrosion as well as exhaust gasses. The resistance is far superior to 410 martensitic grades (with 12% chromium) but remains lower than grade 430 (with 17% chromium). Its surface being mildly corrosive makes the product somewhat undesirable for decorative purposes.
Heat Tolerance
Type 409 stainless steel offers a scaling resistance for up to 1247°F under continuous operations. In intermittent conditions, it can tolerate temperatures up to 1499°F. However, these ranges pertain to specific service environments only.
If you'd like to choose a possible alternative, you may want to consider 304 stainless steel that's heat resistant, 321 stainless steel that certainly offers excellent heat resistance, or the aluminized steel that's more affordable than grade 409 (but less resistant to exhaust gases).
Heat Treatment
Annealing is carried out at temperatures between 1454°F and 1652°F. This is followed by air cooling techniques. Besides, thermal treatment does nothing to harden grade 409 stainless steel.
Welding
Before welding, grade 409 steel needs to be preheated at temperatures of around 302°F to 500°F. Although it is readily weldable, great care should be taken to weld this type — especially when employing minimum heat to mitigate grains successfully. Post welding annealing must be at 1400°F to 1499°F to improve weld ductility, which isn't required for thin sections.
Applications
Ideally, grade 409 stainless steel helps manufacture mufflers, catalytic converter systems, and automotive exhaust components. Automotive applications are what this type is most known for, where visual appeal is a secondary quality, and corrosion resistance (as well as mechanical properties) are top priorities. Plus, the grade is very much durable. Being resistant to exhaust gasses makes it popular for agricultural equipment, furnace equipment, gas turbine exhaust silencers, heat exchanger tubing, structural hangers, truck exhausts, and more.
Looking for 409 Stainless Steel Coil, Roll, or Strip Providers San Antonio? Contact Us!
At National Kwikmetal Service, we can cater to the exact requirements of different clients to help fuel their business goals. No San Antonio stainless steel slitting inquiry is too big or small for us. Call us at 1800-722-5029 (toll-free) or request a quote through our website.