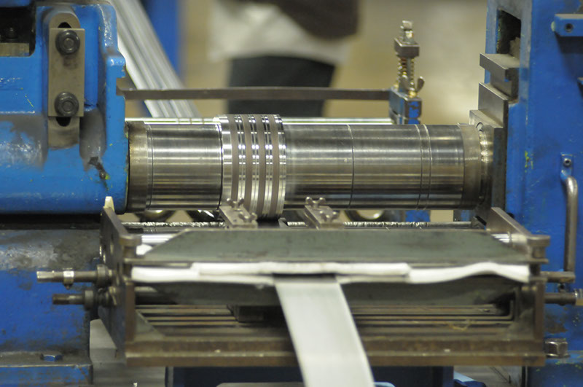 Stainless steel doesn't just refer to a single product, but a variety of them — including grade 301. What makes stainless steel different is its chromium content, which is usually combined with nickel for better corrosion resistance and greater ductility.
The 301 stainless steel strips and coils have been the flagship products of NKS for three decades. NKS's engineers work closely with clients to deliver excellence in all of their manufacturing processes. Read below to learn more about 301 stainless steel coil, roll and strip and its slitting process:
About 301 Stainless Steel Coil, Roll and Strips
Type 301 is an austenitic stainless steel that is capable of attaining better strength and ductility by cold working, thanks to its chromium and nickel content. Although it's nonmagnetic in the annealed conditions, cold working makes stainless steel highly magnetic. Heat treatment does not harden the metal, and it's a modification of grade 304 to improve the work hardening range.
Its high work hardening rate may, however, require immediate anneals for multiple operations. This makes the grade ideal for where drawing or stamping is essential — such as with structural applications. 
Compared to type 302 and 304, this product has much better corrosion resistance, achieved during annealing. Type 301 is preferred over a variety of other grades in tempered conditions, as its higher elongation allows for quicker fabrication.
301 stainless steel coils and strips can be used for aircraft and architectural equipment, computer parts, construction components, fasteners, food appliances, springs, transportation gear, washers, and much more. Being a cold-rolled alloy, grade 301 has superior directional properties and greater tensile strength, and it can also save you time on surface treatment.
301 Stainless Steel Coil, Roll and Strips Slitting in Atlanta
Steel slitting is the method of separating wider strips/coils into narrower ones. The process demands dedicated equipment to continuously fracture the coil in a straight line, all along the edges, to achieve the desired cuts.
Stainless steel coils are fed through an arbor having multiple sets of sharp steel knives. These penetrate deep enough, waning the adjacent material right to the point of splicing it. The slit strips continue from the arbor to the re-coiler, and they are assembled back into a coil form for easy handling and transportation.
In terms of penetration and clearance, the knives' working is always strictly monitored, so the final product is free of any flaws. The skilled NKS operators having years of experience in make proper adjustments to the clearance to minimize burr as much as possible. At NKS, we have seven high performing slitters to cater to all kinds of jobs, big or small. Based on the customer's needs, we assign the materials to the most suitable stainless steel slitting line.
Most slitters have nearly the same operation, but they vary slightly in size. Once the coil is slit to the desired specifications, it is then packed and finally delivered to the customers in the most pristine conditions.
At NKS, we believe that metal slitting is a process of more than just making precise cuts. It's also about shipping the final product and meeting the customers' requests consistently and professionally — from the initial order, to the final delivery, and all things in between.
Looking for a Stainless Steel Coil, Roll or Strip Slitting Company in Atlanta? Contact NKS!
Grade 301 is a highly marketable stainless steel product. It has excellent weldability, abrasion resistance, forming qualities, and much more. If you're looking for a reliable slitting facility in Illinois, Tennessee, or anywhere in North America, National Kwikmetal Service is the company to call. We're easily reachable at 1800-722-5029 (toll-free), or you can also request a quote online for our slitting services.
We offer competitive prices, guaranteed customer satisfaction, and certified metallurgical services. Regardless of the complexity or size of your project, we're committed to providing you nothing but excellence. Our staff can assist you with any of your queries regarding type 301 or any other metal slitting capabilities. Call us to find out how we can help!