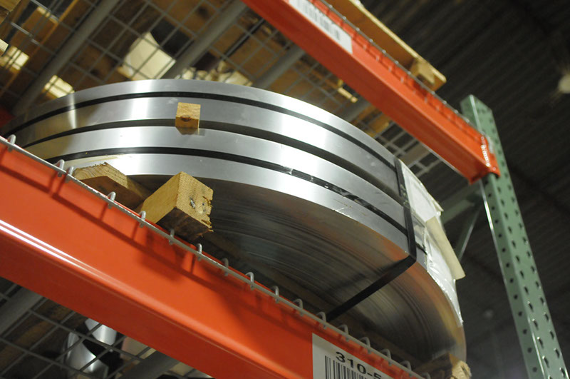 An Introduction to Type 301 Stainless Steel and Stainless Steel Slitting Services in Cleveland, Ohio
Type 301 is an austenitic stainless steel that's more magnetic than other standard grades when cold worked. However, it continues to be nonmagnetic in the annealed state. In the annealed condition, the grade offers an increased level of stretch formidability, and in cold-worked conditions, it provides an increased strength level.
Furthermore, being vulnerable to carbide precipitation all through the welding period restricts its usage for a number of applications. However, its high strength and excellent corrosion resistance make it ideal for many other purposes.
Want to learn more about the properties of 301 stainless steel? Below, the experts at NKS are going to explain everything you'll need to know.
Quick Overview
Type 301 is a commonly obtainable grade that can be furnished in the shape of strips and wires. The material constitutes 17% chromium and 7% nickel to give it excellent strength and ductility. Grade 301 is appropriate for drawing, forming, as well as welding. It's also available in various tempers and conditions. 
National Kiwkmetal Service supplies type 301 in strip and sheet form. We also provide stainless steel slitting services.  We are one of the most trusted and experienced stainless steel distributors and slitting service providers in North America. For more information about type 301's physical, chemical, and mechanical properties, you can check out our detailed product description here.
Resistance Abilities
Corrosion Resistance
Excellent resistance to corrosion makes this type of stainless steel suitable for several different applications across multiple industries. It's especially great with applications that may be exposed to mildly corrosive environments at ambient temperatures. In this aspect, type 301 is somewhat similar to grade 304. Moreover, type 301 also performs well in marine, industrial, outdoor, and mild chemical environments.
Heat Resistance
Type 301 stainless steel can be exposed without appreciable scaling to a maximum of 1600°F.
Processing
Cold Working
301 stainless steel is regarded as high strength. However, its work-hardening rate makes it a bit more challenging to work with in comparison to other similar steels. Consequently, cold rolling, as well as roll forming, is achievable. This hardens type 301 at an enhanced rate, resulting in superior strength. Cold rolling also makes it highly magnetic, but because of residual ductility, cold deformation may occur.
Welding
Grade 301 is suitable for most welding processes. Usually, type 308L is suggested to be utilized as a filler metal. For accomplishing increased corrosion resistance in welded parts, the material may be annealed, which isn't necessary for type 301L and 301N.
Heat Treatment
Grade 301 stainless steel is not fit for thermal hardening. In the case of intermediate annealing, a lower range may be used. This grade is further subject to solution treatment annealing between 1850°F and 2048°F temperatures.
Applications
Some of the most common uses of type 301 stainless steel include (but aren't limited to) the following:
Automotive wheel covers
Aircraft structural parts
Conveyor belts
Cooking utensils
Industrial applications
Railcar structural components
Roofing products
Stove element clips
Subway cars
Trailer components
Wiper blade clips
It's important to note here that type 301 stainless steel's strength and environmental resistance make the material suitable for a variety of additional applications as well.
Looking for a Type 301 Stainless Steel Supplier and Slitting Services in Cleveland? Contact the Team at NKS!
Type 301 stainless steel is well suited for all kinds of applications across multiple industries, as it exhibits good ductility along with being readily formable. If you would like to learn more about this material, please get in touch with our experts at National Kiwkmetal Service — our staff and in-house metallurgists will be happy to assist you. You can call us at 1-800-722-5029 (toll-free) to ask about our comprehensive range of products and stainless steel and aluminum slitting capabilities in the Cleveland area. You can also request a quote today through our website.