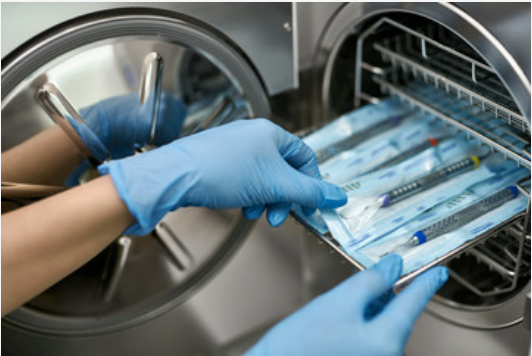 You might have noticed, the last time you went to the doctor, that a lot of medical equipment is made out of materials like Stainless Steel and Aluminum. Why is that? Well, first of all, metals like Stainless and Aluminum are high-performance metals. That means that they have unique properties that are well suited for multiple applications within the medical field. At NKS, our diverse inventory of Stainless and Aluminum grades, and our wide range of processing capabilities, make us the go-to source for manufacturers of medical equipment.
Let's compare Stainless Steel and Aluminum and find out what unique properties make each metal well-suited for this kind of manufacturing.
Strength and Weight
Stainless is a heavier metal than Aluminum, and therefore stronger. Aluminum, being more light weight, is also quite malleable. So, while some medical supplies and tools are made from Aluminum, more structural equipment is often made from Stainless. Stainless being a stronger metal means that it will not bend under pressure and it can withstand stress and impact.
Durability
Stainless is not just stronger, it is more durable than Aluminum. It can withstand corrosion by forming a protective surface. That same protective surface makes Stainless less susceptible to scratches and dents.
Weldability
Stainless has higher weldability compared to Aluminum. While Aluminum is naturally more malleable, Stainless is actually easier to weld. When welding two pieces of Stainless together the seam that is created is consistent throughout the weld and eliminates any crevices that may prove difficult to disinfect. It is important to disinfect metal surfaces regularly, especially in a medical setting, because it has been proven that viruses tend to survive for longer periods of time on non-porous surfaces.
Finish
NKS offers many kinds of finishes, such as Mill Finish, Dull, Anodized and OSB Finish. When sourcing from NKS, you can expect a flawless finish that meets your specifications. Such finishes make Stainless and Aluminum a preferred material in the manufacturing of medical equipment.
The Importance of Quality Control 
Beyond the properties that make Stainless and Aluminum safe choices for the manufacturing of medical equipment, it is important that all of these materials are of the best, safest and most efficient quality. That is where ISO certification comes in. The International Organization for Standardization is an independent, non-governmental, international organization that sets standards for the quality and safety of manufacturing materials such as high-performance metals.  The NFS-ISR (International Strategic Registration) certifies that NKS conforms to the ISO 9001:2015 standard. The requirements of such certification are 1) NKS demonstrates an ability to consistently provide products and services with applicable regulatory and statutory requirement and 2) NKS aims to constantly enhance customer satisfaction through the effective application of the quality assurance system. At NKS we provide a multitude of services and materials that meet all applicable requirements. And when you work with NKS, you are guaranteed to receive the best quality material.
300 Stainless Steel Series
300 Series Stainless is the prominent grade used in the medical field. This is because of the specific chemical composition of the metal. Certain specifications, such as corrosion performance, and the chemical, physical and mechanical properties, ensure that this product meets the requirements needed for healthcare sector applications. 304 Stainless is by far the most sought-after grade of Stainless for the manufacturing of medical equipment. This metal comes in a wide range of forms and finishes. 304 Stainless has high corrosion resistance and low carbon content. This means that 304 Stainless will not chemically react with bodily tissue, cleaning products, or wear and tear. NKS is not only your source for 304 Stainless, we also carry 304L Stainless. 304L is the low carbon form of 304 Stainless and may be used in heavy gauge situations where high strength welds may be required. To learn more about 304 and 304L Stainless, check out our product page. We will break down the chemical, mechanical, and physical properties that make this metal a perfect fit for the manufacturing of medical equipment.
What is metallurgy and why does it matter?
When our customers are sourcing materials for the manufacturing of medical equipment, it is integral that they can trust the metallurgical potential of different grades and coatings of the metal. Coating processes are essential to medical equipment and help to improve the cleanliness and hygiene of the equipment to maximize the performance and lifespan of the material. Not only does NKS offer a wide range of coating options, we also offer in -house metallurgical testing. With state-of-the-art equipment NKS's in-house Metallurgical Lab acts as a problem-solver and is ready to consult with customers on any challenges they may face when choosing the proper grade and coating of Stainless or Aluminum. Using ASTM testing standards, NKS Metallurgists will determine the proper grade to ensure clients receive the appropriate grade for their application.
NKS Can Meet All Your Metal Needs
NKS slits Stainless Steel and Aluminum to customer specifications, providing quality products that are used for a wide range of applications. These include everything from electrical devices used daily by the general public, to products that enable engineers worldwide to create life-changing technology. Stainless Steel and Aluminum are fundamental in supporting a multitude of conditions such as high temperature, corrosion, stress, conductive and non-conductive applications, cleanliness requirements and environmental accountability. By building on our sourcing, production and technical expertise in a variety of markets, NKS can be your partner in achieving your mission. Contact us today to get started.